Phillip Hughes death: 'Weeping' Australia in mourning - Slater
Last updated on .From the section Cricket
The death of Phillip Hughes has left a country weeping and has "changed cricket forever", according to former Australian batsman Michael Slater.
The 25-year-old died on Thursday, two days after being struck in the neck during a domestic match in Australia.
"I think we've all wept in the last day or so," Slater told BBC Radio 5 live.
"I don't think anyone thought the outcome would be Phillip Hughes passing away."
He added: "It is so heavy and confusing. It's not what happens in cricket. In this instance, it has changed cricket forever.
"The whole of Australia is mourning because he was a fighter. He got dropped by Australia but came back out and scored lots of runs. Australians can relate to that. His death has affected a nation."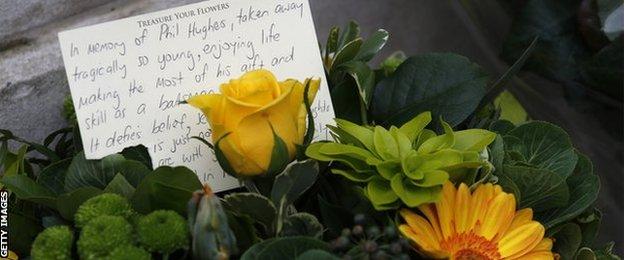 Cricket Australia chief executive James Sutherland told a news conference in Sydney on Friday that a decision has not yet been made on whether next week's first Test against India in Brisbane will go ahead.
"Cricket will go on when we're ready, but we've not broached that subject with the players yet," he said.
"We will in time, but they've got other things on their mind.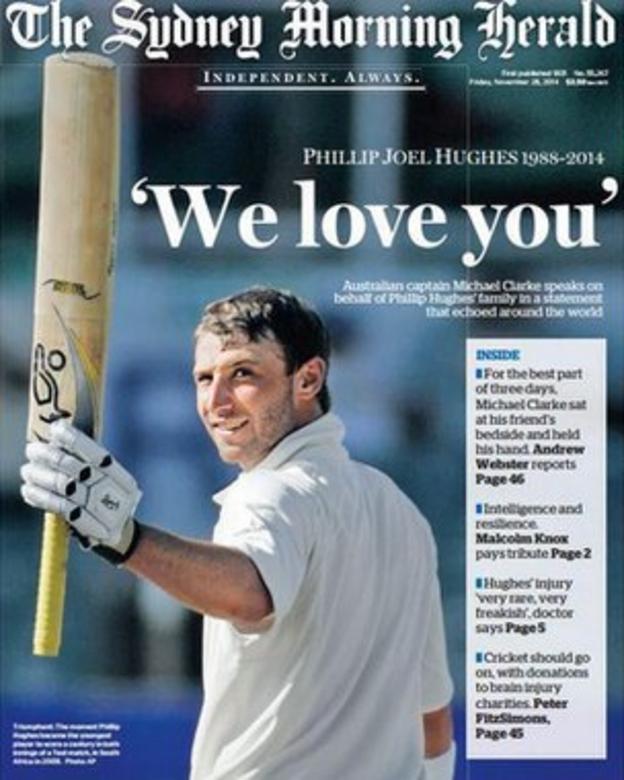 "To many people, seven days does not seem far away, but, in other ways, it is a million miles away. We will get there when we can."
Cricket Australia general manager Pat Howard added: "We need to make sure the players are in a position where they can make strong choices. That is not now. The focus is on people rather than the cricket."
Sutherland added that he had spoken to bowler Sean Abbott, whose delivery caused the fatal injury to Hughes, and said the 22-year-old New South Wales player, was "holding up really well".
Sutherland added: "I was incredibly impressed by the way he was holding himself and his maturity."
Australian Broadcasting Corporation's lead broadcaster, Gerard Whateley, speaking on BBC Radio 5 live, describing the death of Hughes as "a numbing shock, which is more akin to when terrorist attacks have occurred around the world".
Whateley added: "You seek comfort first with your family and then more broadly."
Cricket Australia has also released a video tribute to Hughes.
It was put together by cameraman Adam Goldfinch, who has toured extensively with the national side.
Phillip Hughes (1988-2014)
Phillip Hughes, batting for South Australia, was hit on the neck by a short-pitched ball on Tuesday. He never regained consciousness.
Australian team doctor Peter Brukner explained Hughes died as a result of"vertebral artery dissection".
His family paid tribute to a "much-loved son and brother".
Emotional Australia captain Michael Clarke stayed with Hughes's family at his bedside for two days.
Australia rugby union team set to wear black armbands against England at Twickenham on Saturday.
Prime Minister Tony Abbott described Hughes' death as a "shocking aberration".
Australian media has also been paying tribute to Hughes, with front and back pages dedicated to the life and career of the left-handed batsman, who played 26 Tests for his country.
Cricket fans around the world also marked the passing of Hughes by posting photographs of their own bats on Twitter, complete with the hashtags #putoutyourbats and #putyourbatout.
Paul Taylor, from Sydney, is believed to have come up with the idea.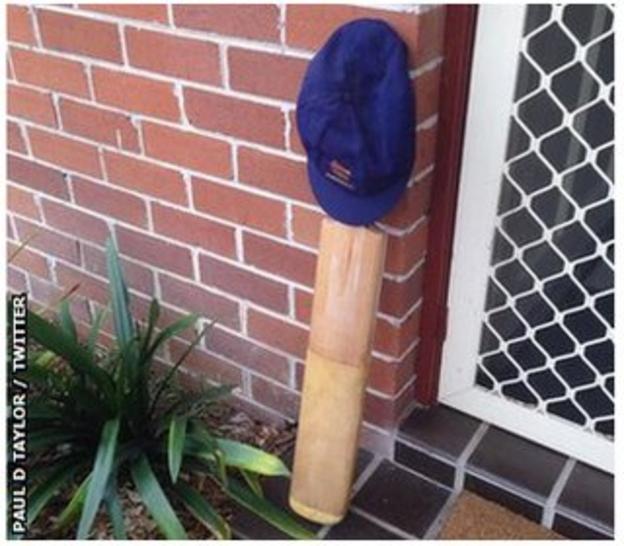 Flags at Lord's cricket ground in London, the spiritual home of the sport, were also flown at half-mast.
The death of Hughes has also sparked discussions about player safety.
Sutherland said there would be an "immediate" review of safety protocols, in consultation with manufacturers.
Former Aussie pace bowler and current Yorkshire first team coach Jason Gillespie told BBC Radio 5 live hopes the focus remains on Hughes,
"I don't think this is the time to start talking about laws and safety," he said.
"I think this is a real time to grieve because there's a family who have lost a son, lost a brother and there's a wider cricket community who have lost a team-mate and lost a close friend.
"I'm still in shock, to be honest, and very numb. It's just hard to put into words, to be perfectly honest.
"This has rocked the sport of cricket to the very core."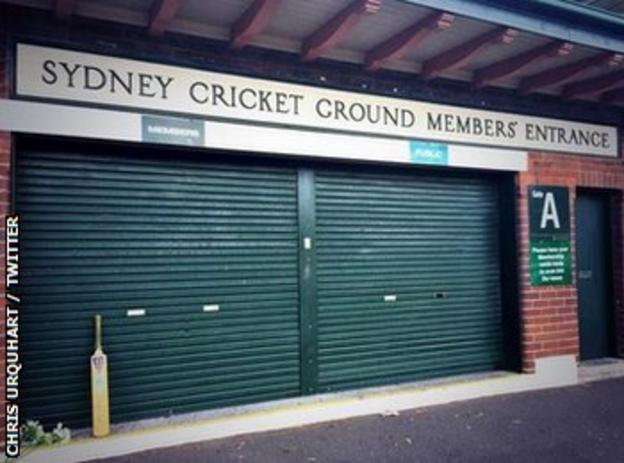 ABC's Whateley said the death of Hughes at just 25 and the fact that the tragedy had "happened in front of us" made it, in his view, the "worst day I've known in Australia sport".
He added: "We've seen it and lived through it for three days and there was a sense of dread as his team-mates and family made those terrible processions to the hospital.
"The announcement of his death felt like a collective blow for all Australians.
"Virtually every Australian sporting organisation has joined in the condolences.
"From teenagers being drafted into AFL competition, to iconic figures like track cyclist Anna Meares and 100m hurdler Sally Pearson, they have all been struck by this.
"It is the collective endeavour of Australian sport so it touches them all."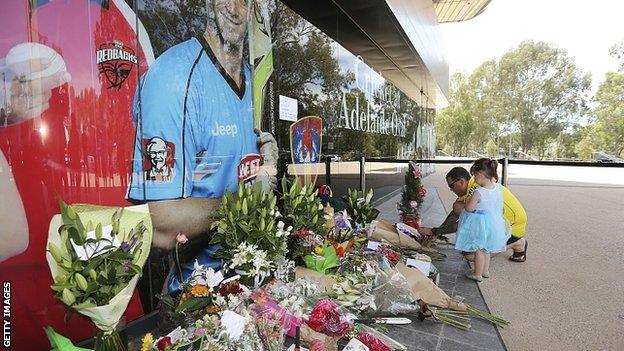 Former England captain Michael Vaughan, speaking on BBC Radio 5 live, described the death of Hughes as a "freak accident" and said it would "be the end of Test match cricket" if bouncers were outlawed.
"The aggressive nature of Test match cricket has to carry on," he added.
However, Vaughan said that the sledging that marred the last Ashes series must be "stamped out".
"You want fast bowlers firing down bouncers, intimidating batsman," he said. "That's high level sport.
"But over the last few years cricket has gone beyond respect. I hope this incident will send a message worldwide that you play aggressive, but let's stamp out this verbal abuse."