Ashwell Prince: Lancashire batsman reconsiders retirement
Last updated on .From the section Cricket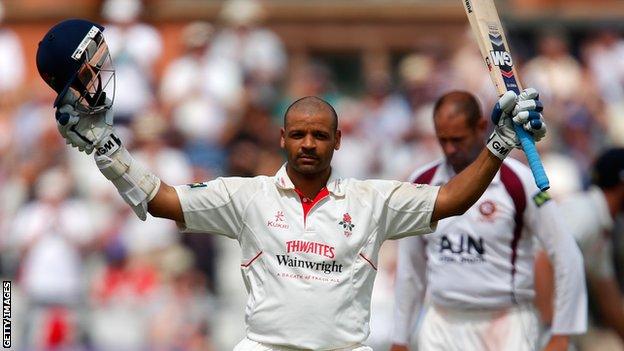 Lancashire batsman Ashwell Prince has revealed he is considering reversing his decision to retire from cricket.
The 37-year-old, who passed 16,000 first-class runs this summer, appeared in 66 Tests, 52 one-day internationals and one T20 game for the Proteas.
"I think at the moment I can say at least I'm considering it," Prince said.
"The body is quite tired but you never know. A few months ago there was no chance but now there is a little chance.
"It will be nice to get home and have a few months off but I might be sitting around not knowing what to do with myself."
Prince scored 11 centuries and 3,665 runs in a Test career that lasted almost a decade following his debut against Australia in 2002.

Lancashire captain Glen Chapple is hoping the club can persuade him to return for another summer at Old Trafford.
"His circumstances have changed slightly so there might be an option for him," Chapple told BBC Radio Lancashire.
"You don't want to finish playing too early. He's been a really good influence for us this year and the quality of his cricket is as high as ever."
Lancashire have won just three of their 15 Championship matches this season, with 40-year-old Chapple doubling up as first-team coach since the departure of Peter Moores.
He is yet to discuss his future, with the club looking like they will need to beat Middlesex in their final match to avoid relegation to Division Two.
"Nothing sure yet in terms of the rest, we'll just have to wait and see," Chapple added.
"We'll just concentrate on the next couple of weeks and see if we get a chance to stay in the first division by beating Middlesex. It's for the club to decide once the season finishes."