Alastair Cook: Ashley Giles backs captain for World Cup
Last updated on .From the section Cricket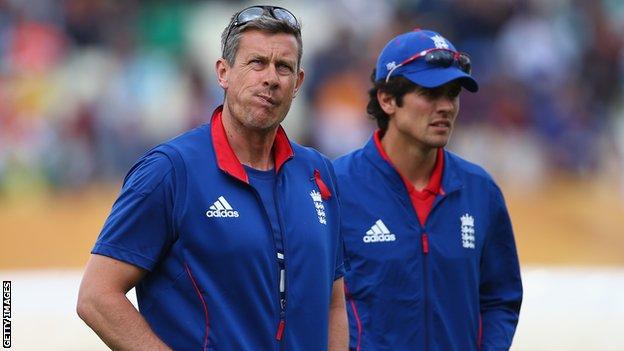 Former England limited-overs coach Ashley Giles says it is "too late" to sack Alastair Cook as one-day captain with the World Cup five months away.
England have won a solitary one-day series against a Test-playing nation since 2012 and a number of ex-players have called for Cook to quit.
But Giles told BBC Radio 5 live: "I'd keep him as captain because we're close to the World Cup.
"It's important from a leadership point of view."
England, beaten 3-1 by India in their recent home one-day series, will play seven 50-over matches in Sri Lanka in November and December.
They face India and Australia in a triangular series in January before the World Cup in Australia and New Zealand in February and March.
Giles, who was England limited-overs coach between November 2012 and March 2014, said another poor series could make Cook's position "untenable".
"The seven one-day games in Sri Lanka are so important," he said.
"Winning there is very difficult, so if the weight of pressure and the public opinion against Cook continues to rise then his position could become untenable by the end of that series."
Former spinner Giles also believes Cook could have been removed as captain in all forms of cricket, but for a stroke of luck in the third Test in Southampton against India in July when he was dropped by Ravindra Jadeja in the slips.
Cook went on to hit 95 in the first innings and an unbeaten 70 in the second as England won by 266 runs to level the series before going on to win the next two Tests.
"If Jadeja had taken that catch at Southampton when Cook was on 15 we might already have a new captain - but it's too late to change it now," added the 41-year-old.
"Cook deserves a bit of time but he's not playing well - he's just beating the ball up; he's not caressing it, not timing it.
"He could use his feet more and be a bit more pro-active and that is the Alastair Cook I have seen play well in one-day cricket."
England one-day series in Sri Lanka
26 Nov: Colombo
29 Nov: Colombo
3 Dec: Hambantota
6 Dec: Colombo
10 Dec: Kandy
13 Dec: Kandy
16 Dec: Colombo
Despite his concerns about Cook's captaincy, Giles does not believe England require wholesale changes in order to start winning consistently again.
"There are specialists who can come in. Surrey's Jason Roy really, at the moment, is a T20 specialist who could play 50-over cricket," said Giles.
"But what we don't want to do is get sucked into the trap of believing that anyone who's not in the squad at the moment and getting runs in county cricket is better than the guys already in the team.
"I've got no problem with Cook, Ian Bell and Alex Hales as a top three - all are adaptable; they're all good players.
"The bottom line is that one of your top five has to get a big score. Otherwise it doesn't matter how you bowl; you're dead in the water."
Listen to more from Ashley Giles looking ahead to England's winter ODI series on the TMS podcast.