England v India: How to solve a problem like Alastair Cook
By Sam Sheringham
BBC Sport at Lord's
Last updated on .From the section Cricket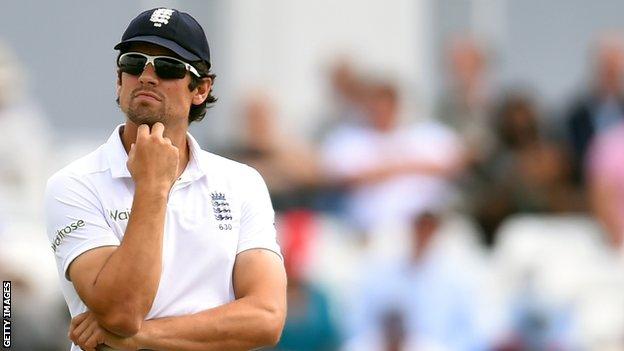 It was not so long ago that Alastair Cook could do no wrong.
Cut to Lord's on Monday afternoon as a broken Cook stepped up to the post-match podium to react to England's latest humiliation.
An inexplicable post-lunch collapse to Ishant Sharma's bouncer barrage had consigned Cook's England side to their seventh defeat in nine Tests and extended their winless run to 10.
Emasculated by his own wretched batting form, and with the relentless criticism of former players swirling through his mind, Cook carried an air more of desperation than defiance as he insisted he would not be stepping down from the job.
Here, we analyse the decline of Cook the captain and batsman and assess whether he can revive his failing team.
Is Cook really doing such a bad job as captain?
When he captained England to success in India, Cook led by example with hundreds in the first three Tests. When he won the Ashes last year, he was reliant on inspired individual performances from senior players.
Now the runs have dried up and the established stars who remain are not delivering, the spotlight is firmly on Cook's tactics in the field.
Hammered by Shane Warne in the commentary box for being too passive during England's 5-0 whitewash in Australia, Cook has been more innovative this summer - with mixed results.
Cook's record as England Test captain

2010:

v Bangladesh (away)*

Won 2-0 (two Tests)

2012-13:

v India (a)

Won 2-1 (four Tests)

2013:

v New Zealand (a)

Drew 0-0 (three Tests)

2013:

v New Zealand (home)

Won 2-0 (two Tests)

2013:

v Australia (h)

Won 3-0 (five Tests)

2013:

v Australia (a)

Lost 5-0 (five Tests)

2014:

v Sri Lanka (h)

Lost 1-0 (two Tests)

2014:

v India (h)

Losing 1-0 (after two Tests of five-match series)

*as stand-in captain for Andrew Strauss
The tactic of using Liam Plunkett as a "bodyline" bowler after winning the toss on a green-top at Lord's was panned as India escaped from 145-7 to 295.
In the second innings, he ignored Moeen Ali's spin for long periods as Ravindra Jadeja and Bhuvneshwar Kumar took apart the seamers to put on a match-changing partnership of 99.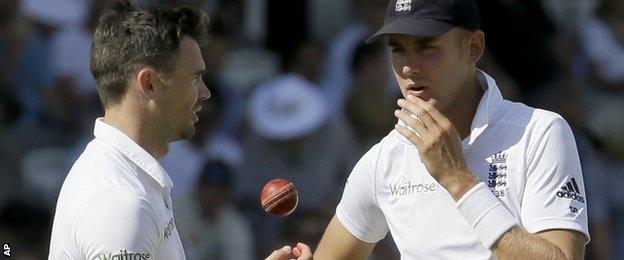 "I don't think we've seen enough 'cricket thinking' from Cook - reacting to what's out there," says Michael Vaughan, who captained England to the Ashes in 2005.
"It's become very comfortable for Anderson and Broad. They seem to know they're going to bowl six or seven-over spells. I'm sorry, no-one can guarantee me that because you've got to earn the right to bowl six and seven-over spells.
"England have bowled dreadfully at times this summer but I've not seen enough of the ball being grabbed out of the bowlers' hands. I've not seen enough angry bowlers."
Why has he stopped scoring runs?
Cook has had barren spells before. Between March 2008 and February 2009 he did not score a century for 27 innings - although he did pass fifty 11 times - and in 2010 he endured a difficult summer against Pakistan's seamers only to secure his place on the Ashes tour with a gutsy hundred in the last Test at The Oval.
His current lack of runs, however, has exposed a worrying weakness in the left-hander's game that is being relentlessly exploited by opponents.
By pitching the ball full around off stump, pace bowlers are preying on Cook's reluctance to get forward and frequently locating the edge of his bat.
Leading England Test runscorers

Tests
Runs
Average
Centuries
Graham Gooch

118

8,900

42.58

20

Alec Stewart

133

8,463

39.54

15

David Gower

117

8,231

44.25

18

Kevin Pietersen

104

8,181

47.28

23

Alastair Cook

106

8,162

45.34

25
Cook has been out to seam bowlers in 24 of his last 27 innings, with 10 of those dismissals coming from catches by the wicketkeeper.
"He is over-stretching going forward and he loses where his off stump is," says former England captain and coach Keith Fletcher, one of Cook's early mentors at Essex.
"He has to let the ball come through more, He wants to take a slightly shorter stride and play the ball under his eyes, but it is not that simple I can assure you.
"All good players go through bad patches but Cook hasn't had the rub of the green in the last few Test matches. If you think about the series against Australia, with their bowling attack you expect to be bowled over fairly regularly. He has struggled but he is still a great player."
Do England need Cook the captain or Cook the batsman?
England have accommodated captains who were not prolific run-scorers before. Three-time-Ashes winner Mike Brearley never scored a Test hundred. Vaughan averaged more than 50 while not captain, but just 36 during his time in charge.
However, while Brearley and Vaughan were widely acknowledged to be natural leaders and astute tacticians, Cook lacks what Geoffrey Boycott calls the "instinctive feel" for captaincy.
England captains since 1993

Tests without captaincy

Batting average without captaincy

Tests as captain

Batting average as captain

Alastair Cook

81

46.36

25

42.36

Andrew Strauss

50

41.04

50

40.76

Kevin Pietersen

101

47.13

3

52.40

Andrew Flintoff

68*

31.53*

11

33.23

Marcus Trescothick

74

42.93

2

71.50

Michael Vaughan

31

50.98

51

36.02

Mark Butcher

70

35.03

1

7.00

Nasser Hussain

51

38.10

45

36.04

Alec Stewart

118

39.59

15

39.22

Michael Atherton

61

35.35

54

40.58

*Flintoff figures include one game for ICC World XI
According to former captain Alec Stewart, removing Cook from the pressures of captaining a struggling side would help him rediscover his run-scoring touch and ease the burden on some of the other young batsmen in the side.
"Being brutally honest, if Cook stands down as captain we won't miss his captaincy," says Stewart. "But we are missing his prolific run-scoring at the top of the order.
"Only he knows whether it is the captaincy that is affecting his batting, the added thought processes he has to go through, the fact he hasn't got a frontline spinner, only two top-class bowlers in Broad and Anderson - these things add up.
"I don't want him left out of the side. You have a young opener at the other end in Sam Robson who is trying to learn his trade at Test level so you want Alastair Cook in the side scoring runs. To have two openers who aren't performing makes it really hard for the upper middle order.
"Regaining his form as batsman has to be the priority."
If not Cook, then who?
The England and Wales Cricket Board has invested a huge amount in Cook, backing him over the removal of Kevin Pietersen and gambling that his partnership with returning coach Peter Moores could restore English cricket to the top table.
And yet perhaps one of the biggest factors keeping Cook in a job is the lack of an obvious alternative.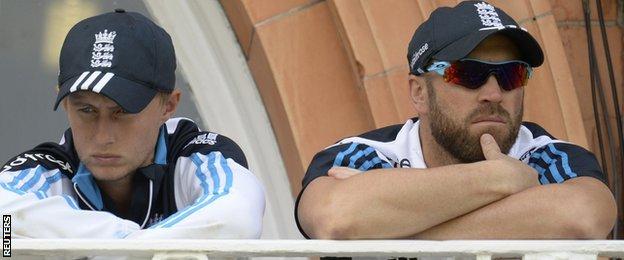 Ian Bell is England's unofficial vice-captain and has enjoyed success in occasional charge of Warwickshire, but his own recent form has been almost as bad as Cook's, with no hundreds in his last 19 Test innings, though he has four half centuries in that time.
Matt Prior, the squad's oldest player, is taking a break from Test cricket to address his injury problems and Twenty20 captain Stuart Broad has a long-standing knee complaint.
Yorkshire batsman Joe Root, 23, is seen as future captaincy material, but would England really want to burden their brightest young batting talent with the added responsibility of succeeding Cook?
Vaughan would like to see Middlesex batsman Eoin Morgan given the chance to spearhead a new, attacking England side.
But Graeme Swann, who played under Cook until his retirement midway through the Ashes down under, thinks the opener remains the right man to lead his country.
"Cook has an inner steel stronger than almost anyone I have ever known," says Swann. "He is going to fight like hellfire.
"I'm glad Cook is being so strong and determined because that dressing-room needs someone to hold it all together and not let it become fractured and dissipate. There are still some very good cricketers in there."
What happens next?
There is no let-up in England's intense summer schedule, with the third Test starting in Southampton on Sunday.
A Cook century and an England victory would change the picture completely, but further failures and an 11th winless match could begin to make his position look untenable.
Ex-England batsman Geoffrey Boycott on Test Match Special
"Only Alastair Cook, his wife and family want him to remain as captain - nobody else. He's being stubborn and it's going to take six wild stallions to drag him out of that job. It's not about Alastair's feelings; it's about the England cricket team. He sees it as a sign of weakness to give it up. It's not - it's a sign of strength. He thinks it's all going to come right when he scores some runs. It's not."
Former Australia captain Steve Waugh believes Cook should cocoon himself away from public opinion and stay true to his methods.
"A lot of people make comments about captaincy and big suggestions, but at the end of the day when you are out there captaining your country you have to live and die by your decisions," Waugh told BBC Test Match Special.
"Cook has to work it out for himself, have a close group of people around him and really trust what he's doing is right and believe that his vision is going to be OK.
"If he if not comfortable with it any more - and I think we'll know in a couple of Test matches with his form and what he does - then maybe it is time to give someone else an opportunity."