Jonathan Agnew: Rudderless England beset with problems

By Jonathan Agnew
BBC cricket correspondent
Last updated on .From the section Cricket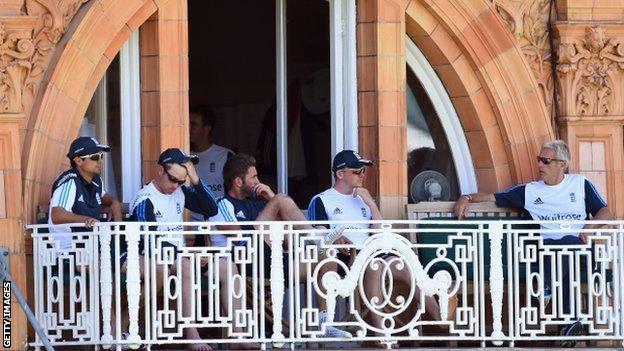 England are a malfunctioning cricket team, with Alastair Cook's desperate form just one of many problems afflicting the side.
I spoke to lots of people in and around Lord's as England reached 219-6 in reply to India's 295 on day two at Lord's on Friday, some of whom are involved in the game and others who are simply supporters or observers.
There are those who think Cook should continue as captain and others who are adamant that he needs a break. But almost everyone I talked to expressed a deep concern for where English cricket finds itself and the way this team is going.
The senior batsmen are struggling - Ian Bell fell to another soft dismissal on Friday - the bowling has been inexcusably wayward on a helpful pitch, and even the fielding has not been as sharp as it used to be.
They are a rudderless team, lacking in confidence and just desperately need to turn a corner. But at present there is little sign of a bend in the road being within sight.
Cook's slump is commanding the most attention, of course, and the pressure on the captain will inevitably increase after another failure.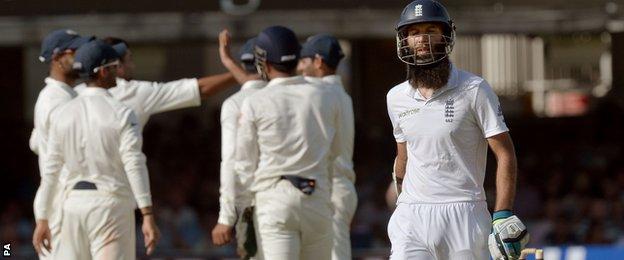 He actually batted quite nicely for his 10 and seemed to be lining it up well, but it was a poor shot that got him out as he nicked an away-swinger from Bhuvneshwar Kumar through to the keeper.
Cook will be desperately disappointed, but he will get another chance to bat in this absorbing match so let's not draw any conclusions about his future just yet.
Kumar was the most successful member of an Indian bowling unit who comfortably outperformed their England counterparts simply by pitching the ball on off stump and allowing the wicket to do the rest.
Cricket is often about patience and making sure you are not the one that breaks down first. England broke down on Thursday on a wicket so green and lively that even a good county attack would have bowled India out.
I find it particularly worrying that during the lowest point in England's first-day performance, when Liam Plunkett was roaring in from round the wicket trying to bounce people out, no one on the England coaching staff saw fit to demand a change.
Just like us journalists, they are away from the heat of battle, observing the game from a distance, so why didn't they act on what was so obvious to all of us? Why didn't one of them send a message out with a drink to ask: 'What is going on? This has to stop. Get back to basics.'
Ex-England batsman Geoffrey Boycott on Test Match Special
"It was a very difficult and ordinary day for England. The pitch had flattened out a bit and there was only a little bit of movement with the new ball. We didn't take advantage of it. The big question was if Alastair Cook could score runs. He batted nicely early on - playing in the V and showing the full name of the sponsor on the bat - but like in golf when you play a few good holes and then the fault resurfaces, he nicked one and was out."
Listen to Geoffrey Boycott review the second day's play in the Test Match Special podcast
It's too early into his second stint as coach to lay the blame at Peter Moores's door. England do give glimpses every now and then of their potential, but the team is not functioning as a unit and it may take them some time to get out of this slump.
Without Gary Ballance's fine century, England would have found themselves in a far worse predicament by the end of the second day at Lord's, which closed with the hosts on 219-6 in reply to India's 295.
The Yorkshire left-hander really is playing well. He is only the second batsman ever, after MJK Smith, to score three successive first-class hundreds at Lord's and only the third Englishman to do it in his first two Tests at the home of cricket.
He had a bit of fortune on 32 when he nicked one between the keeper and slip, but when things are going your way, you should enjoy it and cash in.
Ballance is fast becoming a bit of a rock for England at number three, which is exactly what you need in that position. There is a calmness about his batting, which reminds me of Jonathan Trott.
When Trott was playing well at number three, you never thought anyone was going to push him over and Ballance is the same.
He's not a flamboyant, extravagant, or, attractive player, but he is effective, hard-working and very hard to get out.
Every team needs a batsman or two like that.
Jonathan Agnew was talking to BBC Sport's Sam Sheringham
Listen to Geoffrey Boycott and Jonathan Agnew review the day's play on the Test Match Special podcast.