Nottinghamshire can win County Championship title - Phil Jaques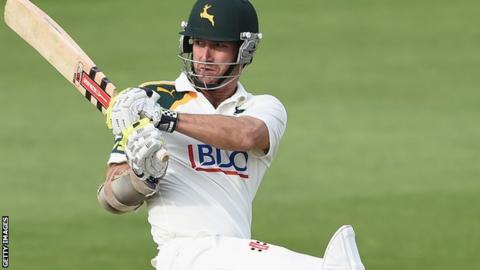 Australian batsman Phil Jaques is convinced that Nottinghamshire can go on and win the County Championship title in his absence.
Notts are level on points with Yorkshire at the top of Division One after their seven-wicket victory over fellow high-flyers Somerset.
Jaques plays his final match for Notts at Warwickshire starting on Sunday.
"We have every making of a championship team, there is no doubt about that," he told BBC Radio Nottingham.
"I've always thought that from the outside. To now be amongst the group, I can see a real feeling of belief starting to come in.
"With the players we have got, belief is a big thing. I really hope we can keep the momentum going."
Nottinghamshire won the sixth and last of their County Championship Division One crowns in 2010.
Left-hander Jaques, who has committed to returning to Notts in 2015, followed his first-innings 113 with an unbeaten 42 as they wrapped up their comfortable win over Somerset on the final morning at Trent Bridge on Wednesday.
Notts director of cricket Mick Newell said their latest triumph capped off what has been one of the most memorable winning runs during his time in the English game.
Last week they overcame Middlesex in the County Championship by successfully completing their highest run-chase in nearly 90 years at Trent Bridge.
Notts then managed their biggest Twenty20 score on the way to beating Leicestershire, before also getting the better of Derbyshire in the T20 Blast 24 hours later.
"We have played the best teams, as far as I could see, in four-day cricket and risen to that challenge and put together some good T20 cricket as well," said Newell.
"I'm really pleased and it's one of the best 10 days of my career in terms of an English team."