Innovative England hint at bright future - Jonathan Agnew

By Jonathan Agnew
BBC cricket correspondent
Last updated on .From the section Cricket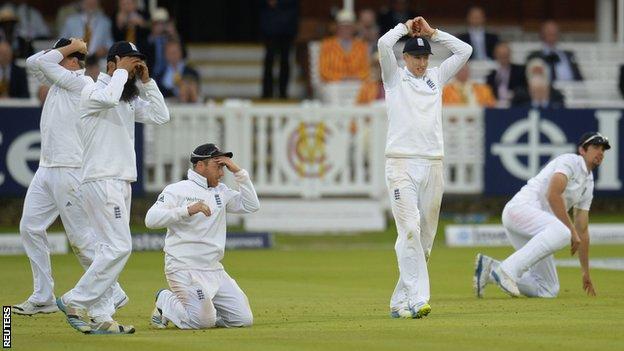 After the miserable Ashes tour in the winter, it was hugely uplifting to see England play with such energy and purpose in the first Test of the summer against Sri Lanka at Lord's.
They piled up a massive first-innings score, bowled with heart and skill on a flat pitch and came within a whisker of pulling off a spectacular victory in Monday's pulsating final session.
One of the most encouraging aspects of England's play was the innovative fields set by captain Alastair Cook on the final day.
Cook was heavily criticised in Australia for being too reactive and lacking imagination, but here he was deploying all manner of weird and wonderful strategies.
Before tea, Kumar Sangakarra looked a dead cert for his second century of the match. But when he came out after the interval, he must have been flabbergasted to see five fielders in a ring on the off side, from slip round to straight mid-off.
Last time I saw a field like that was playing Subbuteo cricket on a table top, but there was method in the madness as Sangakkara promptly chopped on to his stumps.

Cook later revealed that the extraordinary field was James Anderson's idea, but the whole episode reflects a sea change in England's mentality and approach.
It shows that the dressing room are now open to ideas, that the team can be flexible and that the captain has the confidence to take a risk in the quest for a breakthrough.
I can never imagine Cook being reckless, but he showed he can think outside the box and do something unusual. That can only bode well for the future.
Later, with England desperate to break the partnership between Angelo Mathews and Prasanna Jayawardene, we saw Chris Jordan bowling with a 'Bodyline' field - lots of close catchers on the leg side.
The approach forced Jayawardene on to the back foot and, soon afterwards, he was trapped lbw in front of middle stump.
On pitches like the one at Lord's, you have to make things happen and it was great to see England being so innovative and proactive right up until the final ball.
The fact that all nine wickets fell to England's seamers on the last day highlights the biggest outstanding issue still facing this side - the absence of a frontline spinner.
Moeen Ali could well develop into a top-rank slow bowler but, at the moment, he is only really good enough to be a support spinner.
On the final day of a Test, you are really looking for a spinner to bowl for much of the day. Even if they are not taking wickets, they are creating pressure, but Cook had no one to turn to.
Alastair Cook as England Test captain

Played

22

Won

9

Lost

6

Drawn

7
The real problem for England is the dearth of candidates to replace Graeme Swann, who retired midway through the Ashes.
Do they want to throw a young lad like Kent's Adam Riley in against India later this summer? Could you really bring Lancashire's Simon Kerrigan back after he fell apart on his debut against Australia at The Oval last year?
We all know that Monty Panesar has the credentials, but he is having all sorts of off-field issues at the moment and is clearly not selectable.
England may choose to get by this summer by preparing green-top pitches to suit their seamers, but they do not have much Test cricket between now and the 2015 Ashes, and this problem is not going to go away.
The other big concern is Cook's form with the bat. Following scores of 17 and 28 at Lord's, the skipper has now gone 22 innings without a century and desperately needs a score in the second Test at Headingley, which starts on Friday.
Jonathan Agnew was talking to BBC Sport's Sam Sheringham