Kumar Sangakkara a true modern great - Jonathan Agnew

By Jonathan Agnew
BBC cricket correspondent
Last updated on .From the section Cricket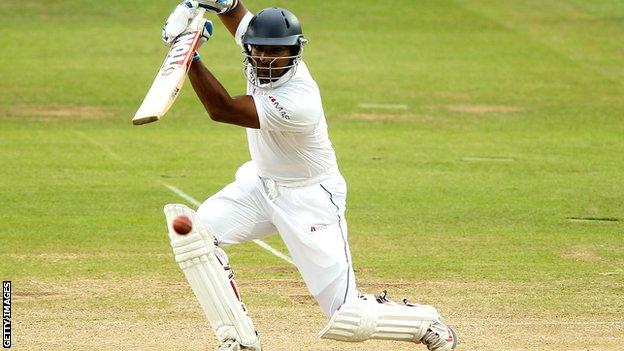 Kumar Sangakkara's first Test century at Lord's underlined his status as a modern batting great.
Two weeks ago, he scored a superb one-day hundred to inspire Sri Lanka to victory over England in the penultimate game of the series, and here he batted in a similarly purposeful and unflappable manner to ensure his team avoided the follow-on in the first Test.
Whatever form of cricket he is playing, he never slogs or swipes. He just has this beautiful way of working the ball around the cricket field and accumulating runs.
Even his pull shot isn't loaded with aggression. Instead, he just swivels round in an effortless way and guides the ball to the boundary.
He has always been a model of discipline and concentration, a very graceful, silky player who is an absolute master of his craft.
Leading Test centurions

51

Sachin Tendulkar (India)

45

Jacques Kallis (South Africa)

41

Ricky Ponting (Australia)

36

Kumar Sangakkara (Sri Lanka)

36

Rahul Dravid (India)
It is perhaps because Sangakkara, 36, is not a flamboyant cricketer that he is rarely spoken of in the same terms as Brian Lara, Sachin Tendulkar or Ricky Ponting. You won't often see the Sri Lanka left-hander coming down the pitch to smash a spinner over his head, or hooking a fast bowler for six.
But his career average of 58.53 is superior to any of his illustrious peers and by inscribing his name on the Lord's honours board he has achieved a feat that eluded all three of them.
He is also a kind, engaging and intelligent man and I would defy you to find anyone who has a word to say against him.
Could England have done more to try to prise Sangakkara out? Not really. This pitch is so loaded in the batsman's favour that you really are scratching your head to know what to do.
And in the end it took a short, wide delivery from a part-time spinner to finally end his innings as he gifted Moeen Ali his first Test wicket with an edge to Matt Prior.
At that stage in the day, Sri Lanka had eased past the follow-on mark and people were starting to chunter about the pitch.
But the sudden dismissal opened the door to the Sri Lanka lower order and Chris Jordan and Liam Plunkett earned reward for their tireless efforts with a wicket apiece to leave the tourists seven down and still 160 short of England's first-innings score with two days of the match remaining.
Unquestionably, it will still take a big effort for England to force victory on this track, but people really shouldn't be too critical of Lord's groundsman Mick Hunt.
We are lucky that in modern cricket there are far fewer stalemate draws than there used to be. Once a team scores the best part of 600 runs, the onus really is on them to bowl the other team out or it is going to be a draw.

People talk about making the wickets bigger, or the bats thinner, but that is nonsense. No matter how hard you try to prepare a certain type of pitch, you cannot predict exactly how it will play or what effect the weather will have, and inevitably some will do very little.
There was clearly an effort to produce a bit of a grassy wicket here, but it was never as green as it looked from afar and the pitch soon dried out with the warm weather we had over the first two days.
England's chances of forcing a victory will not be helped by the absence of a frontline spinner from their attack, but do not write off this Test match just yet.
Jonathan Agnew was talking to BBC Sport's Sam Sheringham.
Listen to Jonathan Agnew and Geoffrey Boycott analyse the day's play in the Test Match Special podcast.