England v Sri Lanka: Alastair Cook's summer of reckoning

By Tom Fordyce
Chief sports writer
Last updated on .From the section Cricket280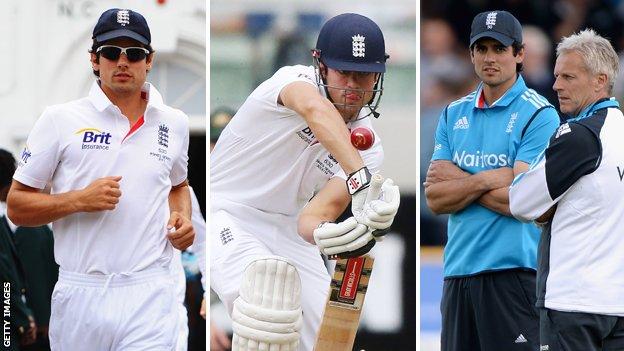 These summer months should be the sweet spot of Alastair Cook's career arc.
He has 102 Test caps and an England record of 25 centuries to his name; he is 29 years old and free of injury; and he boasts a recent past that includes Ashes won home and away and a rare Test series secured in India.
Instead, as the Test season begins against Sri Lanka on Thursday, he will walk out at Lord's as uncertain as he has been in his garlanded eight-year England career - as a batsman, as a captain, as figurehead for a new regime that is still fighting for acceptance, let alone ascendancy.
Cook's last act as Test skipper was to tow a mangled wreck of a side off the SCG outfield while opposite number Michael Clarke led his Australia side on laps of ecstatic honour.
In the inevitably dark self-analysis that followed, he admitted to doubts about his captaincy, wondering aloud whether the Ashes win at home had "papered over some of the cracks".
In key respects much has changed. Gone, for now at least, are the rampaging Mitchell Johnson and immovable Brad Haddin, the hectoring Australian crowds, the thousands of miles that separated him from the cool refuge of home.
In other ways he is the same captain in a near identical predicament.
Ray Illingworth, England skipper on 31 occasions, responded to being told that Mike Brearley was the country's finest captain by retorting that he was simply the luckiest, blessed to come up against feeble Australia sides with titans like Ian Botham to work miracles on his behalf.
Captains, in other words, are dependent on those they have around them. And Cook, just as he was down under, is without two of the critical figures who propelled England to the top of the world rankings: the man who took more Test wickets in five years than anyone else in world cricket, Graeme Swann, and England's most reliable number three in 25 years, Jonathan Trott.
He is also, as will be unavoidable all summer, without England's leading run-scorer of all time. In time Kevin Pietersen's enforced exile may indeed be seen as the catalyst that created a cultural cleansing. For now, there is a more straightforward question: who is going to score his runs?
With the absence of those cricketing talents comes an attendant loss in battle-hardened assistance.
At times in Australia Cook looked horribly alone, shorn of trusted lieutenants and alternative ideas. The team that trots out at Lord's is likely to be more callow yet, a collection of players looking for Test security and a standard to rally around rather than a buttress for the man at the top of the pile.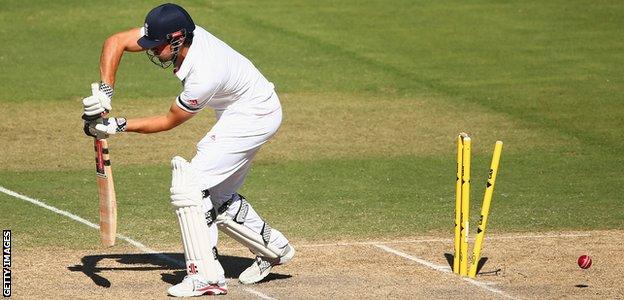 The best captains are made to look better by those around them. The unlucky ones are those expected to succeed in a team game on personal resolve alone.
"There's a lack of natural leadership in the side," former England limited-overs coach Ashley Giles admitted to Test Match Special.
"It doesn't mean we've not got good people. But your best player isn't always your best captain. Often, though, the best captains have the best sides."
Cook's captaincy in the field so far has felt like a reflection of his own character - hard-working, straight-laced, honest.
If it could also be inflexible, attritional and short on inspiration, only now will we see how much of that reflected the style of former team director Andy Flower.
Towards the end in Australia, Cook seemed not to know himself what sort of captain he wanted to be.
Dogmatic with his bowling plans at times, he was puzzlingly quirky at others, as in Australia's successful fourth-innings run-chase in Melbourne, when he took his best bowler, Stuart Broad, out of the attack after only two overs, or gave occasional spinner Joe Root more overs at a more important time than the comparative veteran Monty Panesar.
Can a skipper reinvent himself in maturity or learn to be something he is instinctively not?
In new/old coach Peter Moores, he has an ally who likes his teams to attack and to visibly enjoy the battle, even as Moores himself will also be battling for endorsement from an expectant public.
The concern for a man who not only prefers to lead by example but was given the job primarily for that reason, is that his own performances appear to have been neutered by the cares and capriciousness of captaincy.
He made a century in each of his first two Tests in charge - deputising for Andrew Strauss in Bangladesh - and three in his first three after being appointed on a permanent basis in late 2012.
That early bounce has dissipated, first incrementally, then inexorably. In the last 12 months he is averaging only 30.8 in Test cricket, against a career average of 46.5. In his last 10 Tests - all against Australia - that average drops still further, to a fraction over 26.
He has endured dips in form before, most noticeably in the summer of 2010, when four home Tests against Pakistan and two against Bangladesh brought an average of just 22.6.
That presaged an Ashes series when he famously scored 766 runs at 127, the technical flaws eliminated by his old mentor Graham Gooch.
But Gooch is now gone, the loyal adviser and the last man lost to spring's bitter purges - with Cook playing a key role in his departure.
And if the weight of captaincy has dogged other stellar batsmen before - Michael Vaughan averaged 36.02 as skipper, compared to 50.98 as carefree foot soldier - others have thrived unhindered... predecessor Strauss averaged 40.76 as England captain and 41.04 alone.
"There will be more pressure on the England side, knowing that any failure, any disappointment, any disaster, will certainly be jumped on by a lot of people," said Vaughan.
"When Cook took over the job, everything was in place. He said recently that he inherited Andy Flower and Andrew Strauss's team. This is his opportunity to build his own style, his own brand."
Backed unequivocally by England's new management structure of Paul Downton and chairman of selectors James Whitaker, Cook now has that rare opportunity in Test cricket: a fresh start.
With Pietersen gone and different faces on the way, it could liberate him to create a team and culture in the image that he chooses, much as Stuart Lancaster used the fallout from the rugby World Cup of 2011 to build a new England rugby team.
A summer of seven Tests at home, in familiar conditions and with warm support, should offer a benign environment.
But time is short and, as the recent one-day series against Sri Lanka has shown, the respite limited. Cook's determination has never been in doubt. Now, with the resolve, must come recovery.
Listen to ball-by-ball Test Match Special commentary on BBC Radio 5 live sports extra, BBC Radio 4 Long Wave and via the BBC Sport website, BBC Sport app & BBC iPlayer Radio app; live text commentary on the BBC Sport website & mobiles