England v Sri Lanka: Peter Moores has 'changed his methods'
Last updated on .From the section Cricket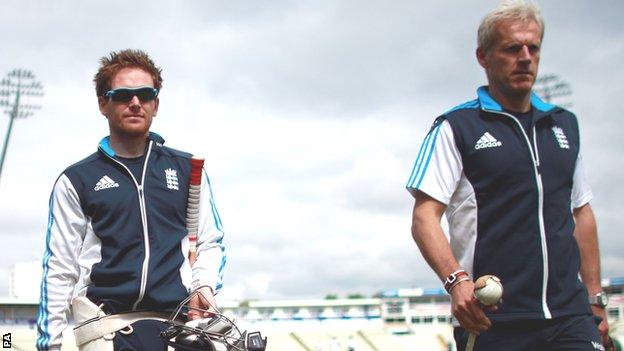 Peter Moores has modernised his methods during the first few weeks of his second stint as England head coach, according to Sri Lanka batting consultant Chris Adams.
"There's been a choke back on the world of sports science and back to some traditional good habits - good routines and rock-solid practice and preparation around cricket skills," said Adams.
"That's what it's primarily about. There is a place for sports science in cricket - a very important place - but you have to get the percentages right."
In his role as an advisor to the Sri Lanka team, former Surrey coach Adams, who played five Tests for England, has been able to watch Moores closely, and has been impressed with what he has seen of the 51-year-old.
"He's always been a wonderful coach with a great personality," said Adams, 44, who played under Moores at Sussex. "He's always looking to move himself forward and increase his knowledge base.
"He expands out of the world of cricket and looks at other high-performance sports around the world and how to relate them back to cricket."
Moores is currently preparing England for their decisive one-day international against Sri Lanka at Edgbaston on Tuesday.
The five-match contest is level at 2-2 following the tourists' seven-run victory at Lord's on Saturday, and Moores is now looking for a "complete" performance to help his side to a series victory.
"We've shown we can beat them and we can be very competitive," he said. "But so far through the series we haven't put a complete game together. The closest one was at The Oval."
In the first match of the series at The Oval, England posted 247-6 in just 39 overs before bowling out Sri Lanka for 144 - Chris Jordan clubbing 38 off 13 balls and taking 3-25.
Sussex all-rounder Jordan, 25, also starred in England's other victory at Old Trafford when he took 5-29 as the tourists were bowled out for just 67.
However, Alastair Cook's men were all out for 99 in a 157-run defeat in Durham and fell just short of victory at Lord's last weekend.
Asked about the significance of a series win, Moores said: "It would be great. We'll treat it like a final.
"We know we have a World Cup coming up in 2015 and there will be lots of big games there. It would be great to win the series and we'll put everything we've got into it."