Chris Cairns: Ex-New Zealand cricketer denies match-fixing claim
Last updated on .From the section Cricket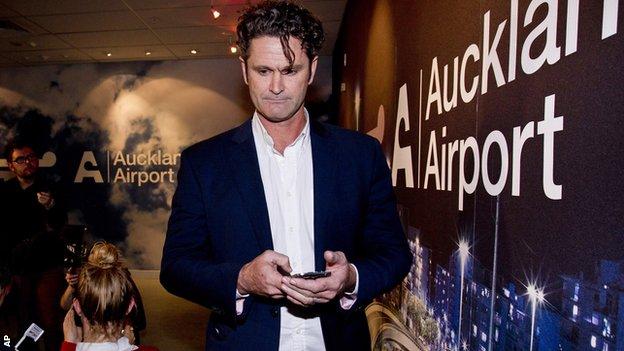 Former New Zealand all-rounder Chris Cairns says claims he fixed matches are "absurd, bizarre and scary".
The 43-year-old has been interviewed by police in London over the allegations.
Leaked testimonies from Kiwis captain Brendon McCullum and ex-batsman Lou Vincent say "Player X" approached them to fix matches.
But Cairns, who believes he is Player X, said: "I am hopeful that proper process will be followed and that I will be cleared of these allegations."
He added: "I have never match-fixed, sought to have others match-fix, or otherwise played the game of cricket in anything other than the spirit it so richly deserves to be played in.
"Knowing what I now know of these allegations against me, I find the situation truly absurd, bizarre and scary."
Cairns, who played 62 Tests and 215 one-day internationals between 1989 and 2006, was speaking at Auckland Airport on Friday after returning from London, where he was interviewed by police at his own request.
He revealed he had also spoken to officials from the England and Wales Cricket Board and the anti-corruption unit of cricket's world governing body, the International Cricket Council (ICC).
Vincent, 35, who has admitted corruption and is assisting the ICC probe, had "betrayed" his friendship with "despicable lies", said Cairns.
McCullum's evidence to the ICC's Anti-Corruption Security Unit (ACSU), where he described being twice approached by a "Player X", was leaked to the Daily Mail and Daily Telegraph earlier this month.
Former Nottinghamshire player Cairns also revealed three cricketers - Stephen Fleming, Daniel Vettori and Kyle Mills - had given evidence to the ICC's match-fixing inquiry, but said none had made "a direct accusation" against him.