Match-fixing: Sussex 'extremely disappointed' by allegations
Last updated on .From the section Cricket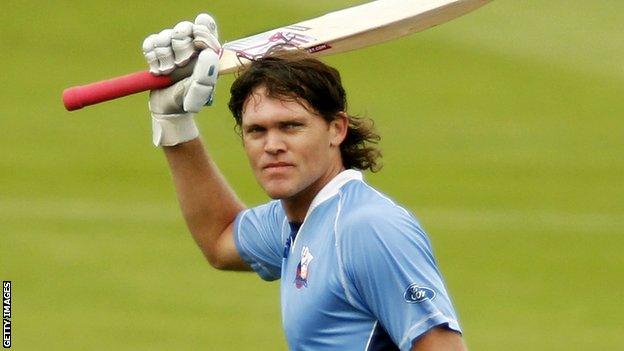 Sussex are "extremely disappointed" with the match-fixing allegations surrounding former players Lou Vincent and Naved Arif.
The duo have been charged by the England and Wales Cricket Board (ECB) and provisionally suspended.
The charges relate to two limited overs matches during 2011.
Sussex said in a statement: "Sussex is disappointed and has co-operated with the ECB Anti-Corruption unit to help establish the facts of what occurred."
The statement continued: "We believe that the education available to players and staff and the controls that have been put in place by the ECB and the Professional Cricketers' Association put our game in a good position as we move forward."
Former New Zealand cricketer Vincent is charged with 14 offences in relation to two matches in 2011, while Arif is charged with six offences.
If the pair are found guilty it will be the first time the game's authorities have proved the outcome of a county match in England was fixed.
Vincent believes the charges made against him dispel any notion he has made a plea bargain with anti-corruption investigators.
He confirmed the charges in a statement released through his lawyers on Friday, adding that he "remains accountable for his actions of the past".
Vincent's statement read: "The fact of the charges, and more are likely, dispel any notions of a plea bargain having been done as unfortunately appears to be wrongly suggested by others."
Former England captain Michael Vaughan told BBC Radio 5 live that said he wants anyone found guilty of fixing banned for life from cricket.