World Cricket League: Jersey to open with Malaysia test
Last updated on .From the section Cricket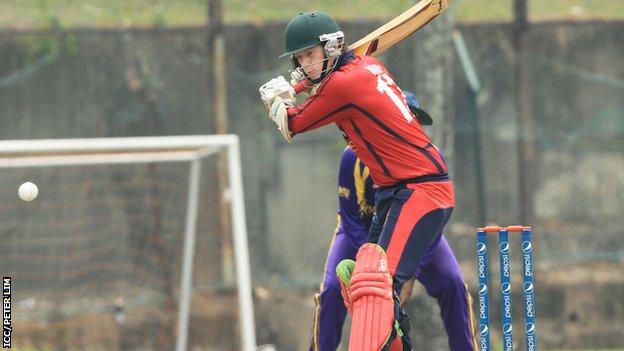 Jersey will face familiar opposition when they open their World Cricket League Division Four campaign in Singapore next month.
The island side plays its first game against Malaysia, who they beat twice on their way to in March.
Jersey also face Oman, Italy, Denmark and hosts Singapore in the tournament.
Jersey have only reached the Division Four tournament once before when they were relegated in 2008.
Head coach Neil MacRae says the island side has an advantage in that it has played a tournament in similar conditions just a few months ago.
"We think it's a big advantage in terms of timing as it's only 10 weeks since we last played a tournament together, and also knowing the conditions, we're really excited and we're going out there to win the tournament," he told BBC Radio Jersey.
"We know this is a step up, we've earned the right to be there. It'll be a competitive tournament, but we know a fair amount about Italy and Denmark already.
"We played Malaysia and beat them twice in the previous tournament and we're in the process of getting some video footage of Oman and Singapore, so we'll be well prepared."
MacRae says he has been impressed by the form of spinner Sam Dewhurst, who
The right-handed batsman has returned to the island after living in Bristol and MacRae believes the standard of club cricket Dewhurst has been exposed to in England has improved him:
"It's been a good learning curve for him, he's come back and brought a great focus and a great intensity in the way he's trained," added MacRae.
"He's also performed consistently with bat and ball for Old Victorians this season, so he's earned his place in the squad."