'Magician' Saeed Ajmal boosts Worcestershire push
Last updated on .From the section Cricket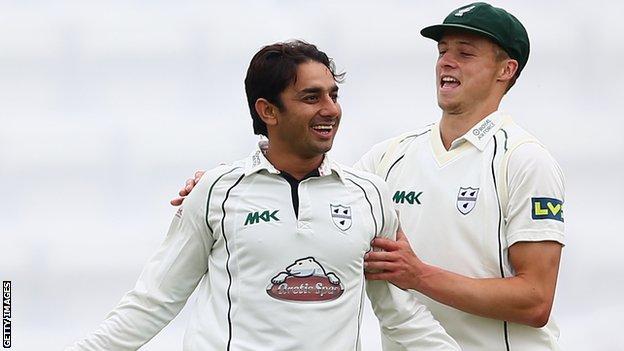 It is still little over two years since Saeed Ajmal introduced himself to English batsmen as a force to be feared.
A prodigious haul of 24 wickets in the United Arab Emirates led to a 3-0 Test series defeat for England against Pakistan.
And, for the little spinner from Faisalabad, who did not play Test cricket until he was 31, a late-blossoming career was truly flowering.
Now he is back in English county cricket, at 36, playing for Worcestershire and, judging by the 26 wickets he has so far picked up in three Championship matches, English batsmen have even more cause to tremble.
Ajmal took a career-best 7-19, for best match figures of 13-94, in helping to beat Essex by 72 runs at New Road on Tuesday.
It was unbeaten Worcestershire's third win in five County Championship games this summer, leaving them second in Division Two.
Although they are resigned to losing their star spinner later in the summer, first for Caribbean Premier League duty, then for Pakistan international commitments, he still has the chance to do a lot of damage first.
And Worcestershire director of cricket Steve Rhodes can still barely wipe the smile off his face.
"He is a star," Rhodes told BBC Hereford & Worcester. "He's showing what a wonderful international bowler he is.
"It is a step-up facing international cricketers and it made Saeed's job a little bit easier that nobody batted particularly well but I wouldn't like to take anything away from him because you've still got to bowl the overs and take the wickets and that's what he has done.
"Saeed has got eight different deliveries and he maximises them.
"He bowls them all and, if there is not a lot of turn, he bowls his fast stuff and when they start jabbing at it, he bowls his slow doosras."
Worcestershire's young wicketkeeper Ben Cox, who has made an excellent start himself to his first season as the county's first-choice keeper, admits that it is a real challenge trying to pick Ajmal's amazing variety of spin options.
"It took me maybe an innings to really see what was going on," he told BBC Hereford & Worcester.
"Now I can pick most of them. I'd say 99% of them.
"There's just one that comes down and you just think 'What was that?' and try to react. That's all you can do. His Malinga ball. That's the one I just have to pick back up off the pitch," he admitted.
This is Ajmal's third time in England, where he had already had some success.
He took 12 wickets in three Tests against England on his first visit in 2010 - and then claimed 17 in just three Championship appearances for Worcestershire when he arrived for the first time with the county the following summer.
But, judging by his performances so far for promotion-chasing Worcestershire, even allowing for the fact that he is facing Division Two batsmen, the suggestion is that he has got even better.
"Playing against him is extremely difficult," said Rhodes. "He doesn't necessarily want it turning square. He is just a real magician."