England v Sri Lanka: Selectors on how to pick a Test squad
By Sam Sheringham
BBC Sport
Last updated on .From the section Cricket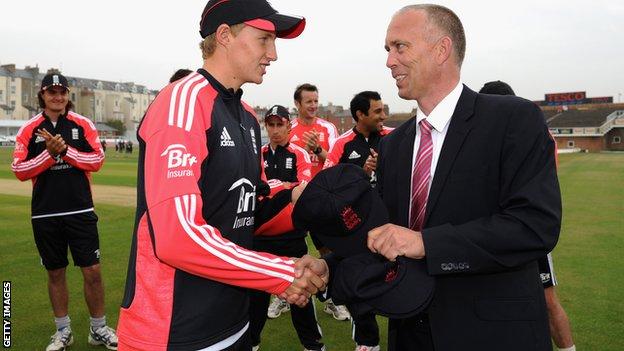 Angus Fraser still remembers how he found out that he had not been selected for the 1994-95 Ashes tour down under.
"I was watching the television and the squad was read out alphabetically," recalls the former England fast bowler. "It got to E and F and once it got to McCague I knew I wasn't in it.
"They hadn't even contacted me so I was furious. I had a bit of a Michael Carberry moment - I said something to a newspaper I shouldn't have done and got fined."
Fraser had played nine Tests for his country over the course of 1994 but fell victim to chairman of selectors' Ray Illingworth's desire to freshen up a struggling side, and the lack of sensitivity the famously hard-nosed Yorkshireman applied to his role.
Almost 20 years on, Fraser is part of a four-man selection panel tasked with filling the gaping holes ripped into England by a merciless Australia during the 5-0 Ashes whitewash in the winter.
The departures of Kevin Pietersen, Jonathan Trott and Graeme Swann, the ongoing search for an opener and doubts over the fitness of Matt Prior had blown open a door that for many years was bolted shut.
As a result, the Test squad to face Sri Lanka, which was announced on Thursday, included three uncapped players in Chris Jordan, Sam Robson and Moeen Ali, while six players - Pietersen, Carberry, Ben Stokes, Jonny Bairstow, Scott Borthwick and Boyd Rankin - from England's last Test in Sydney have been dropped.
But what is the process for finding players capable of cutting it at Test level? Who do the selectors talk to and how do they operate? And what is the best way to deliver the news - good or bad?
During his 11 years as chairman of selectors, David Graveney prided himself on the network of coaches, physios, ex-players and journalists he would use to get the latest information on the form and fitness of potential candidates.
But he often found he would garner the most useful nuggets from a less likely source.
"The umpires have the best seats in the house and see the game without bias," says Graveney, who helped put together the England side that won the Ashes in 2005 to end 18 years of Australia dominance.
"They see how players react in situations, which sometimes watching from the side is not quite so easy to do.
"If a guy got five wickets, I'd want to know was it five good balls or five full tosses? Some guy scoring 150 - how challenging was the bowling? How did a batsman react when he played and missed? How did a spinner react when somebody slogged them out of the ground?"
National selector James Whitaker is the man currently in Graveney's shoes. A former Leicestershire batsman whose own Test career lasted a single match, he is benefitting from new technology designed to help identify players capable of making a rather greater impact on the biggest stage.
Since 2012, the England and Wales Cricket Board has installed a minimum of two fixed cameras at each county match to film every ball bowled, producing up to 56 hours of footage per day.
Analysts at the grounds then edit the videos and upload clips to an online database, which can be accessed by England's coaches and selectors.
"It is a great tool," says Whitaker. "If we want to see highlights of Ian Bell's hundred or Liam Plunkett's wickets, we can see them at the touch of a button.
"If I read reports in the newspapers of something that has happened that we weren't aware of, I can then look it up.
"Simply by pushing a button on my Ipad, I can be watching Yorkshire against Warwickshire here at the ground, but also looking at the highlights of another game going on. We won't miss a thing."
Whitaker is in charge of a panel that also includes England coach Peter Moores, Middlesex director of cricket Fraser and Nottinghamshire counterpart Mick Newell.
When they are not meeting to discuss selection, they are travelling up and down the country and speaking on the phone.
"I tend to watch the first day of a Middlesex game to make sure that everything is in place, then look at how the scores in the other matches are lying overnight," explains Fraser, who took 177 wickets in 46 Tests for England.
"You might spot that a bowler you want to see is likely to be bowling to a batsman you are considering. So you let James know where you are going and set off in the morning.
"Nobody on the panel has an agenda - everyone just wants to see the England team performing well."
What watching players, whether live or on video, cannot reveal is how they will respond to the unique pressures of Test cricket: bowling to a destructive batsman like India's Mahendra Dhoni or taking guard in the middle of a ring of sledging Australians at a packed Melbourne Cricket Ground.
Winning the often gladiatorial, one-on-one battles in the Test arena depends as much on mental strength as technical skill, and form in county cricket can often be a misleading guide.
Mark Ramprakash, for example, averaged 53 in first-class cricket but never seemed to adapt to the demands of Tests as he scored only two centuries in 52 matches and averaged a meagre 27.
Contrast that with former England openers Michael Vaughan and Marcus Trescothick, who both had modest county records when they were called up under coach Duncan Fletcher but went on to be prolific international batsmen and influential members of the 2005 Ashes-winning side.

Graveney, who first noted Vaughan's calm authority on an England Under-19 tour, says the best way for a selector to gauge a young player's mental strength is by accompanying them abroad.
"I met Alastair Cook on an academy tour in Sri Lanka in 2005 and it was pretty evident that he would make it to where he is now," Graveney says.
"He scored a hundred in one of the tour games and, rather than being pleased, he was really disappointed he didn't get to 200.
"He wasn't throwing bats around, but he just felt he had left a few runs out there, just as golfers feel when they've missed a few putts. He set his bar higher than most."
Fast forward a decade and captain Cook will navigate England into a new era next week. Although he is not on the selection panel, he has given the selectors constant updates on the types of players he wants to bring in and will decide the final XI on the morning of the Test.
Before that, the four selectors will sit down to decide on a definitive list of players, bringing three months of work to a conclusion.
"In my day the meetings were always lively, but I can't remember a formal vote happening," recalls Graveney.
"People would present their arguments, listen to others, they might change their minds, but once you had walked out of the meeting you were as one about who had been selected."
Once the squad has been finalised it will be down to Whitaker to let players know whether they are in - or out.
"It's all subjective," he says. "It's a process of opinion, whereby people have got to vote and pick a squad.
"I will phone, email or text the regulars in the squad to invite them to play for an England side in the next series. I will call and speak to the ones who have been left out. It will be very disappointing for them."
For Graveney, who replaced Illingworth in 1997, phoning players to reveal his decision was one of the hardest, but potentially most rewarding, parts of the job.
"The aim was to always deliver the news - whether good or bad - on the phone," he says. "It normally started with the difficult calls first and then the easy ones later.
"In many ways it was a privilege. You are fulfilling people's dreams, but you are also wrecking their dreams."