Kevin Pietersen gets 'buzz' from linking up with Surrey again
Last updated on .From the section Cricket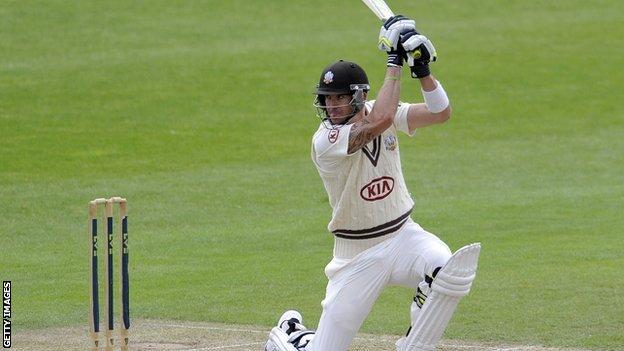 Former England batsman Kevin Pietersen says playing cricket again gives him a "big buzz" after his longest break in more than 10 years.
Pietersen will team up with Surrey head coach Graham Ford, whom he has known since he was a boy in South Africa.
"He is my mentor. He understands my game," said Pietersen.
"Coming back here excites me. Hitting balls again gives me a big buzz.
"I always love playing at the Oval. I love playing for Surrey. They are a great bunch of guys and the management structure and the whole structure of the club excites me."
Pietersen will combine his duties at Surrey with the annual Caribbean Premier League (CPL) Twenty20 tournament, having already agreed to captain Delhi Daredevils in the Indian Premier League.
The IPL runs between April and June, while the Caribbean tournament takes place in July and August.
Pietersen has also said he is happy to play a mentoring role to younger members of the Surrey squad.
"I won't be forceful in my knowledge, but I've got experience in training, the mental preparation that goes in to making you successful," he said.
"It's a case of handing over that knowledge if someone wants it."
Surrey begin their County Championship Division Two campaign at home to Glamorgan on Sunday.
The Delhi Daredevils play their opening IPL fixture on 17 April.