Novak Djokovic faces season of ups and downs, says coach

By Russell Fuller
BBC tennis correspondent
Last updated on .From the section Tennis42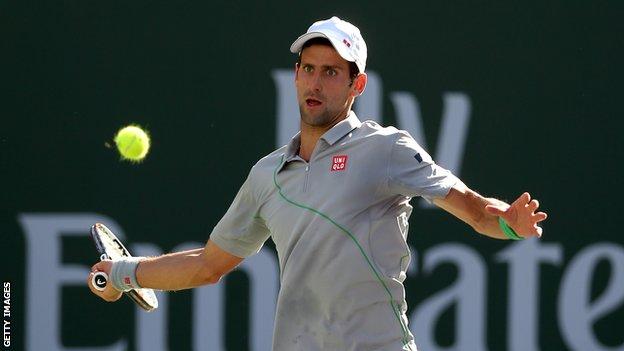 Within seconds of securing his first title of 2014, Novak Djokovic headed to the front row of seats to give two bear hugs to the man who has been by his side for each of his six Grand Slam triumphs.
Indian Wells was Marian Vajda's first coaching assignment of the season. It was decided last year to reduce his schedule so that he could spend more time with his family, and allow Boris Becker to bring all his Grand Slam experience to the role of head coach.
The handover has not been without its teething problems. Djokovic was beaten by Stanislas Wawrinka in the quarter-finals of the Australian Open and lost to Roger Federer in the semi-finals in Dubai, before beating Federer in a third set tiebreak to clinch the first Masters series event of the year in southern California.
That may not sound like cause for concern, yet without Djokovic's exceptional resilience and vast reservoirs of mental strength, he would not have squeezed past Federer in Indian Wells. He admits to fluctuating levels of both confidence and concentration, and Marian Vajda thinks it may be a while before Djokovic becomes completely comfortable with his new team.
"Maybe [this] one year we see his level [being] a little up and down, but maybe in the long run it will have a good effect on his tennis," he told me when we met in the players' restaurant at the weekend.
"Obviously it's a big change. He was used to seeing me there, he was used to my process, to my practices, to my remarks on every match, and everything was running smoothly.
"Obviously my presence was for him important, but we will see how it goes. He has to get used to another coach besides me and it's not easy, it takes time.
"It's not like this," he says, raising his hand in the air and clicking his fingers. "It's not a miracle, it's a process."
Vajda - a former top 40 singles player from Slovakia - will spend about 12 weeks of the year with Djokovic. He will train with the world number two in the run up to next month's clay court tournament in Monte Carlo, and then return to the tour for events in Madrid, Toronto and Beijing.
Djokovic has won four Australian Open titles, and Vajda has been there for every one. So can he genuinely say he didn't miss being in Melbourne at the start of the year?
"No," he replied, breaking into a huge smile. "I have to say no - I enjoy my time with my family."
"On the other side, obviously I watched all Novak's matches and I felt pretty much more relaxed than on the court. Sometimes I was under so much good stress I forgot about seeing the game. Now when I am [watching] on TV I see the things which I don't see before, so it's also something positive."
Boris Becker was not on the initial five-man shortlist of former Grand Slam champions drawn up for the role of head coach, but turned out, in the words of Vajda, to be "the best solution for Novak".
Becker was not in Indian Wells this week, but spoke to Vajda and Djokovic at least every other day, and will be on duty at this week's Masters event in Miami.
"I think there are many more positives that I can look up to than negatives in working with Boris," Djokovic told me after his semi-final win over John Isner.
"It's just the beginning of the co-operation, and you can expect in a way that it takes a little bit of time for us to understand each other - the way we work and the way we are as people on and off the court."
Many people in tennis don't think the relationship will endure, and some even predict that Becker will be back in the BBC TV commentary box in time for Wimbledon.
John McEnroe, on a visit to our studio at the BNP Paribas Open, told me that the ideal scenario would be for Vajda to continue as a full time coach with Becker added to the team for the big events.
"I think either he's going to find this isn't going to work out or he's going to try to get it where he has both of the guys there at the same time at a French Open, or even at an event like this," he said.
"I think that would be to me the way he can get that extra one or two percent that he's trying to get from Boris. It just seems somewhat unusual, I think it is safe to say: awkward would be a word that would come to mind.
"[Boris] is used to sort of being the guy and having everyone doting over him and making sure that everything is OK for him. So for him to do that for someone else, it'll be interesting to see if he can figure a way to sort of be in the background, but also add something of substance."
Djokovic is not a man easily swayed by public opinion, but has shown the desire to make changes if he doesn't feel he is squeezing out every last drop of potential. Todd Martin [as a coach] and Wotjek Fibak [as a consultant] both proved to be short term hires, and Djokovic is desperate to recapture his dominance of 2011.
Roland Garros, Wimbledon and the US Open will tell him all he needs to know about the merits of the current coaching set up. And he has an excellent springboard for success now that he's outlasted a Grand Slam-strength field in the Californian desert.