West Indies v England: Paul Collingwood focused on series win
Last updated on .From the section Cricket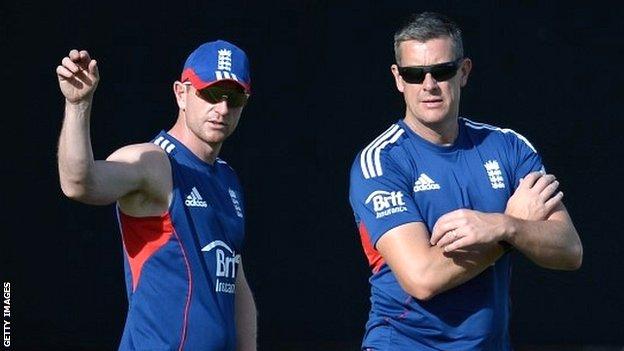 Assistant coach Paul Collingwood says England must focus on victory in the Twenty20 series in the West Indies not preparation for the ICC World T20.
Following their 50-over series victory, the tourists have three T20s, the first of which is on Sunday, before the World T20 begins in Bangladesh on 16 March.
"It's going to be difficult to find a strategy that will work in Barbados and also in Bangladesh," Collingwood said.
"I think confidence is a key thing going into a world T20 tournament."
He added: "A few wins under your belt [is] more crucial than going in with the team that you think you're going to play [in Bangladesh]."
England will be without all-rounder Joe Root, who returned home with a broken thumb sustained in making a century in the deciding one-day international in Antigua.
The Windies welcome back cavalier opener Chris Gayle following a back injury but are still without powerful all-rounder Kieron Pollard because of a knee problem that will also keep him out of the World T20.
Collingwood, working alongside one-day coach Ashley Giles in the West Indies and Bangladesh, is England's only winning captain to date in a global competition, having led them to the 2010 ICC World Twenty20 title in the Caribbean.
"The game has changed a lot in those four years," he said. "You would think it has got the same principles and the same strategies - but they wouldn't work in this game.
"The scores people are getting these days are a lot higher.
"Back then, we went on a nine-game unbeaten run - and the top score was 149 against us.
"That doesn't happen these days. The game has changed massively - for the better as well - and we have to come up with new strategies to overcome these powerful batsmen."
Collingwood, who was part of the coaching team that guided Scotland to victory in the qualifying tournament for a place at the 2015 World Cup, has a seven-week contract to assist Giles.
"Scotland was a great experience, having nine weeks and trying to develop a team and a strategy to put other teams under pressure was very exciting," he told BBC Sport.
"I think I learned out lot out of that and it's been great to come here and get a series win with England, and we'll see what happens in the future.
"I'm determined to go back to Durham and be captain again for the season - which is probably going to be my last season - and I'm determined to have a good season.
"I've enjoyed coaching. It's certainly an option that's out there."
Giles is in charge on a temporary basis but has already expressed his interest in a full-time role and Collingwood said: "I'm sure he knows it's a trial seven weeks for him and we all want to do the best possible for him to get the job."
West Indies captain Darren Sammy says the three-match series will help him finalise his team for the defence of the World T20, which they won by beating hosts Sri Lanka by 36 runs in the 2012 final.
"We still have the power in the team, and if we go out and perform to our full potential we know we will be the team to beat," he said.
"Yes, England did win the one-day series, but we've shown that, once we put them under pressure, they don't respond too well.
"We're looking to do that in Twenty20 - and being defending [world] champions, we have to go out and play like that."