Mervyn Westfield to get 'second chance' at Frinton Cricket Club
Last updated on .From the section Cricket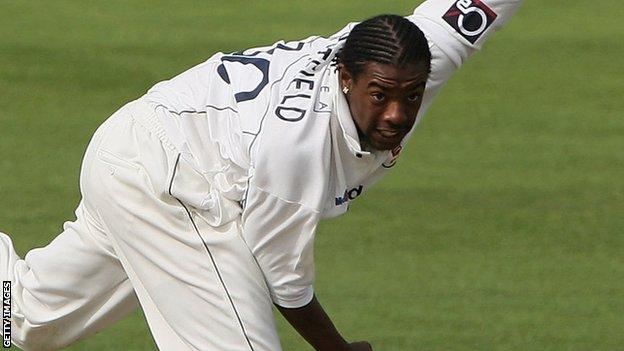 Frinton Cricket Club in Essex are ready to give a "second chance" to banned bowler Mervyn Westfield.
Westfield served eight weeks in prison and was banned from professional cricket for five years, as well as club cricket for two, from 2012.
"It's his big chance to start again at grass-roots level cricket," Frinton player Pat Patel told BBC Essex.
"Obviously he did make a mistake but I feel everybody in life deserves a second chance.
"We've spoken to him. He is a very good young man."
Westfield served eights weeks of a four-month prison sentence for accepting £6,000 to deliberately bowl badly in a one-day game for Essex against Durham in 2009.
The England & Wales Cricket Board also banned the seamer, but his three-year suspension from club cricket was reduced to two after he agreed to take part in an anti-corruption programme run by the Professional Cricketers' Association.
Westfield, who played seven first-class games for Essex, will represent Two Counties Division One champions Frinton this year, assuming he meets all of his PCA responsibilities.
"He's been recommended to us by the PCA," said Patel, who is the club's league representative.
"We've worked with the PCA over the last eight or nine years. They are very familiar with Frinton and they are happy he will be looked after here."
Frinton failed to win promotion to the East Anglian Premier League, the region's top division, when they lost in the play-offs last year.
"We're looking to go places. We only lost one game in our league last season," said Patel.
"We believe our future is in the East Anglian Premier League, we are the major club in the area, and we believe he can help us achieve our goal."