Graeme Smith is one of cricket's greatest skippers - Alec Stewart
Last updated on .From the section Cricket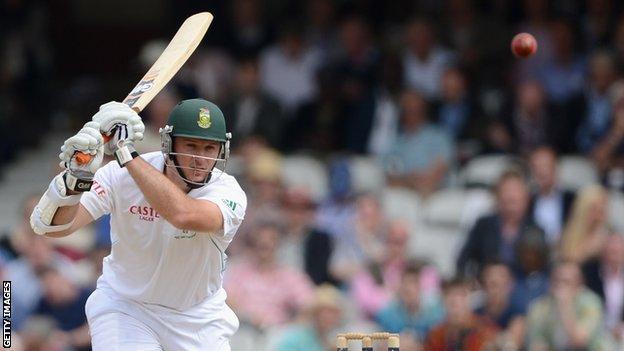 Graeme Smith will be remembered as one of cricket's greatest captains, according to former England skipper Alec Stewart.
He has so far led his country to victory in 53 of his world record 109 games in charge of the Proteas.
"He has the best record as a captain," said Stewart. "All his stats are saying he has to be the very best."
He added: "He was top class. Not only one of the best captains I have played against but he is also a natural leader. He leads from the front.
"I played one series against him and he impressed me straight away. What I have seen of him since has continued to impress me."
Smith was appointed South Africa captain in 2003 after playing just eight Tests and has scored a total of 9,253 Test runs at an average of 48.70.
He signed a three-year deal to captain Surrey in 2012 and will now concentrate on playing for the English county.
Stewart, who is director of cricket at Surrey, told BBC Radio 5 live: "He was in the dressing room at Surrey last season for five or six weeks but had an immediate impact on that group of players.
"I am sure he has done exactly the same with South Africa from the moment he took over as a young man at the age of 22."
Former England batsman Kevin Pietersen is also contracted to Surrey next season.
On hearing the news of Smith's retirement, the South African-born Pietersen tweeted: "For what he has done for SA cricket - the man is a legend!"
Smith took over as captain from Shaun Pollock, who said of his successor: "He was very mature for a 22-year-old when he came into the team. His big physique created a certain presence in the changing room and on the field.
"Some criticised him for being brash, but he backed up his positive attitude with one great performance after another.
"Like all great sporting captains, Graeme led from the front. South African stars like Dale Steyn and Morne Morkel owe a lot to his team management.
"His own character enveloped the team and he established a wonderful rapport with team-mates. He is not going to be easily replaced."
Herschelle Gibbs, who shared in three of South Africa's four opening partnerships of more than 300 runs with Smith, also paid tribute.
"His retirement is premature but it is his call and he obviously knows best," he told Australian radio station 1116SEN.
"He has led a team through everything and brought them to the top of the tree as far as Test captaincy is concerned.
"From the get-go, we all saw a man that wanted to be a leader and lead from the front. He always played the game with a lot of heart and a lot of grit. I think he was a natural captain and his record speaks for itself."