Stuart Broad: England's disastrous winter forced Kevin Pietersen's exit
Last updated on .From the section Cricket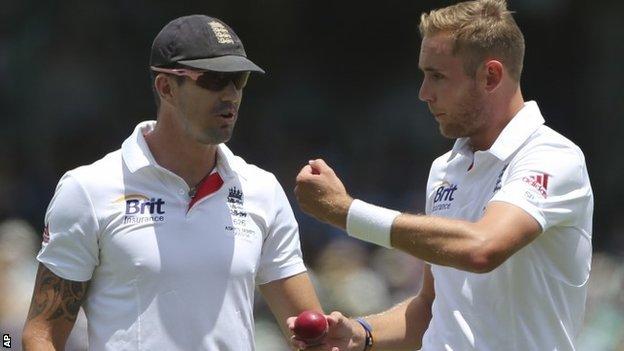 England Twenty20 captain Stuart Broad says a "disaster" of a winter forced the changes that resulted in the end of Kevin Pietersen's international career.
"The decision was taken from guys who were desperate for England to improve in the future, not just in the next four or five months," Broad said.
"We do have to make improvements."
Broad, who will skipper England in their forthcoming one-day and T20 internationals in the West Indies, continued: "It was heartbreaking to lose 5-0 and we lost a lot of good men in doing that.
"It's a winter that was a disaster, but as an England side we have to look forward now. We can't dwell on it now and we must move forward."
Surrey batsman Pietersen is England's all-time leading run-scorer across all formats, with 8,181 runs at an average of 47 in 104 Tests, in addition to 4,440 runs in 136 one-day internationals and 1,176 runs in 37 T20 internationals.
However he was a controversial character in the England set-up. In 2008 he was appointed captain but resigned within five months after falling out with then-coach Peter Moores, who was sacked.
He retired from limited-overs internationals in 2012 before reversing that decision two months later.
He was then dropped during the Test series against South Africa that summer for sending "provocative" text messages to opposing players.
Broad, who will captain England in their World Twenty20 campaign in Bangladesh next month, said he was not one of the main protagonists in ending Pietersen's international career.
"I was aware of discussions towards the end of the Australia tour but I was not deeply involved particularly," said the Nottinghamshire paceman.
"It was a decision made by guys that have the English cricket team at their heart, and they want the team to improve.
"The guys that made the decision are very keen for England cricket to move forward, there's no egos involved in making decisions like this."
The 27-year-old hopes the team can now move on as they fly out to the Caribbean for three ODIs and three T20 matches.
"It's about improving performances on the field and atmospheres off it. All I can focus on is this trip now," he said.
"It's time for the guys in that changing room to realise they can be match-winners and can step up now.
"We don't spend a lot of time together as a T20 side, so we've got to make use of these next three weeks.
"We are going to Bangladesh in three weeks' time with an opportunity to show something different.
"When you've lost so many games over the last six months, it hurts, so we've just got to get back to winning to be honest."