Kevin Pietersen: ECB explains why batsman's England career is over
Last updated on .From the section Cricket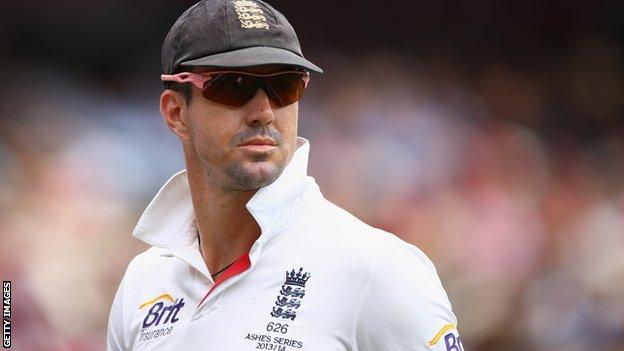 Kevin Pietersen's international career was ended so captain Alastair Cook could create a culture where players trust each other, the England and Wales Cricket Board has said.
But on Sunday, the ECB said it wants to "create a culture" in which Test and one-day captain Alastair Cook had "the full support of all players".
Despite being England's leading run-scorer in the Test series down under, Surrey batsman Pietersen was criticised for the manner of some of his dismissals.
The ECB initially refused to reveal its reasons for leaving him out of the squad for the tour of the West Indies and the World Twenty20 - effectively ending his England career - and national selector James Whitaker would only say on Thursday that "it is time to rebuild".
However, in a joint statement with the Professional Cricketers' Association, the ECB said: "It has been a matter of great frustration that until now the ECB has been unable to respond to the unwarranted and unpleasant criticism of England players and the ECB itself, which has provided an unwelcome backdrop to the recent negotiations to release Kevin Pietersen from his central contract.
"Those negotiations have been successfully concluded and, whilst both parties remain bound by confidentiality provisions, the ECB would like to make the following comments.
"The England team needs to rebuild after the whitewash in Australia.
"To do that we must invest in our captain Alastair Cook and we must support him in creating a culture in which we can be confident he will have the full support of all players, with everyone pulling in the same direction and able to trust each other.
"It is for those reasons we have decided to move on without Kevin Pietersen."
In the absence of an explanation from the ECB this week, stories emerged of unrest in the England dressing room.
Wicketkeeper Matt Prior dismissed allegations by television presenter Piers Morgan that he openly criticised then team director Andy Flower, while Pietersen's wife denied reports Cook and her husband had "squared up" during the tour.
Flower had earlier refuted suggestions he told the ECB to choose between him and Pietersen before he stood down in January.
The ECB said: "Allegations have been made - some from people outside cricket - which, as well as attacking the rationale of the ECB's decision-making, have questioned - without justification - the integrity of the England team director and some of England's players.
"Clearly what happens in the dressing room or team meetings should remain in that environment and not be distributed to people not connected with the team.
"This is a core principle of any sports team, and any such action would constitute a breach of trust and team ethics.
"Whilst respecting that principle, it is important to stress that Andy Flower, Alastair Cook and Matt Prior, who have all been singled out for uninformed and unwarranted criticism, retain the total confidence and respect of all the other members of the Ashes party."