Ashes 2013-14: Ex-ECB chairman calls for county cricket overhaul
Last updated on .From the section Cricket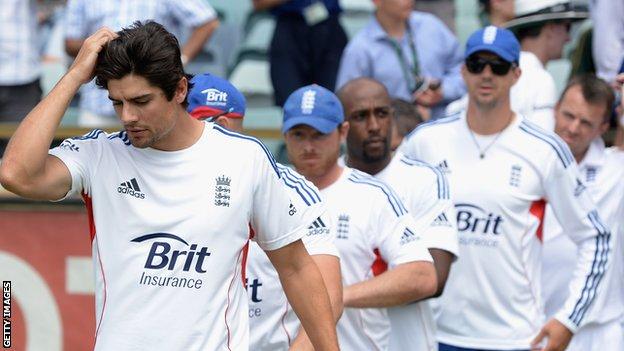 Reducing the number of county cricket sides from 18 to 12 would help improve the quality of cricketers that England produces, says a former chairman of the England and Wales Cricket Board.
"We have a blank sheet now," he said. "If you started from here you certainly would not have 18 county sides."
He also questioned the future of coach Andy Flower and captain Alastair Cook.
The County Championship has consisted of 18 sides since 1992, when Durham became a first-class county.
The competition last underwent major restructuring in 2000 when it was split into two divisions with promotion and relegation introduced.
"I think 12 counties would be a far better producer of Test cricketers than 18 first-class counties, and some of the counties are playing pretty average cricket," MacLaurin, ECB chairman from 1997 to 2002, told BBC Radio 5 live's Sportsweek programme.
"People don't watch county cricket. What they are watching is Twenty20, IPL and international cricket.
"We have got to get players coming through our system which give us the best possible future.
"It would do no harm at all to look at the structure of cricket going forward for the next 5-10 years and see where we come to."
Instead of removing six counties from the County Championship, MacLaurin believes amalgamating those close to each other geographically would be a good starting point.
He said: "You could put Sussex and Kent together for one, because they are near and maybe in the south-east of England you'll get some very good players coming through in a bigger county.
"You could go Warwickshire and Northants, you could go Gloucestershire and Glamorgan or Gloucestershire and Somerset. You could do it easily.
"We are not producing Test cricketers and we haven't got a spinner to name in the squad now Graeme Swann has gone. Put it out for people to look at and discuss it and see what can take the game forward."
England went into the Ashes series in Australia as favourites against a side they had beaten in seven of their previous nine Tests.
But they were heavily beaten in all five Tests, leading MacLaurin to ponder the future of both Flower and Cook.
"It is a very serious blow for English cricket so nobody can say their position is secure," he said.
"[ECB chairman] Giles Clarke is a very competent chairman and I think he won't take any prisoners at all.
"He will see what is right for English cricket I am sure."
Former England captain Allan Lamb agreed with MacLaurin's comments, adding that England's management did not prepare for the series adequately.
"You have to go properly prepared and everyone has to play," he said.
"Your top players have to go into a Test match on fire. We went into that Test match underprepared and you can only blame the management."