Ashes 2013-14: Andy Flower on 'end of an era' for England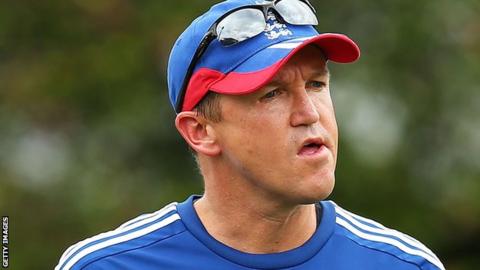 England coach Andy Flower said his team have reached the "end of an era" after their 5-0 Ashes whitewash by Australia.
England lost by 281 runs inside three days in Sydney to complete one of their most humiliating overseas tours.
"This does feel like the end of an era of some description," said Flower.
"It is a chance for some sort of renewal for the England national cricket team. It needs wise people making good decisions at the top to try and get those decisions right."
England rose to number one in the world Test rankings in August 2011 and completed their third consecutive Ashes series victory with a 3-0 triumph over Australia in 2013.
Despite arriving down under as favourites, they were heavily beaten in all five Tests in Australia and have now slipped to fourth in the rankings.
"We've underperformed badly," Flower told Sky Sports. "If I'm honest, we could have seen it coming a little earlier.
"We've underperformed in the first innings for quite a long period of time. We haven't scored many runs, haven't scored any first innings above 400 for a long time, and people lost confidence early on in this tour.
"The pace rocked the batting order in the first Test and we never quite recovered."
The manner of England's disintegration has prompted questions about the futures of Flower, 45, and captain Alastair Cook.
Flower accepts the need for a "full and logical" review of the tour but does not think decisions should be made without time for reflection.
He said: "I, as leader, along with Alastair, have to examine the things we've done, the decisions we've made, the influences we've had - and they obviously haven't been good enough.
"But I think a full and logical review at some stage in the near future might answer some of those questions.
"We certainly weren't good enough, so there should be change of some description. But we should take a bit of time to review it properly.
"It would be remiss of me to stand here and start making crazy predictions or to decide anything without consulting those who need to be consulted."
Flower, who took over as England coach in 2009, said he still has the appetite for the job.
"I still enjoy it, still find it fascinating," he added. "It's a great job and I'm very proud to be associated with England cricket."
Former England all-rounder Paul Collingwood told BBC Radio 5 live's Sportsweek that Flower and Cook should continue in their roles.
"I still think Cooky's the man for the job. I'm sure this has hurt a lot but you've got to move on and have that determination to put things right for the future," said Collingwood, who made 68 Test appearances for England between 2003 and 2011.
"What Andy Flower has done for English cricket has been incredible. He's a real leader and certainly the man I would have at the top to take England forward.
"They will no doubt go on to beat Sri Lanka in the summer and do well in English conditions but you've got to remember how hard it is to play the number one sides in the world. That's what England should strive for, to become the number one side and hopefully play a more positive brand of cricket that will put good teams under pressure."
Collingwood, 37, is in New Zealand coaching Scotland in a qualifying tournament for the 2015 World Cup and former England captain Michael Vaughan is among those calling for the all-rounder to work with the England team.
"I'm still playing for Durham so I'm just focused on that at the moment but if England asked me to get involved I would be absolutely delighted," Collingwood said.
"I'm England through and through and would love to be involved in some capacity but you don't want any kind of a knee-jerk after this series and I'm sure Andy Flower will sort things out.
"I'm seriously focused on developing the youngsters coming through at Durham. If you get the phone call from England it would be very hard to turn down but I'm at the stage in my career where I've still got a year left on my contract."