Ashes 2013-14: England are too insular - Jonathan Agnew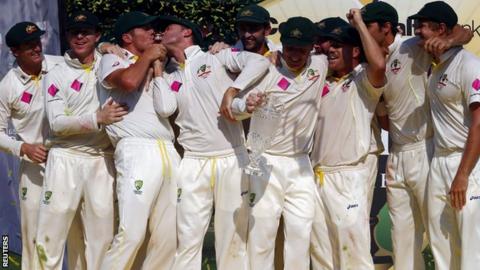 Australia completed their Ashes whitewash on day three of the fifth Test in Sydney, and I suppose it was inevitable the series would end with another England batting collapse.
The tourists were bowled out for 166 in less than 32 overs to suffer a 281-run defeat, and for the players, who looked mentally shot, there must be a sense of 'thank goodness it's all over'.
England now have some serious thinking and planning to do following this disastrous trip, and one of the things they should look at is the entire structure of the tour.
Having just one two-day game between all these Test matches simply isn't enough to break a cycle - whether it is a winning one or a losing one.
I know it was the same sort of structure in 2010-11 when England won the series 3-1, but it worked then because everyone was in form. When things don't go well, there is no chance to get players who are out of form back into form and no way to get players who are not playing any sort of match fitness.
You can look at every aspect of this tour - the attitude of the players, the fact England arrived as favourites, the 82-page menu - and it all paints a picture of a team which has become far too insular.
That was illustrated when I put a question to captain Alastair Cook.
I asked whether the opinions of those outside of the team - those who have played cricket all their lives and have watched the game for years - were worth seeking, and he said no. He said essentially it was for those within the team to work out what has gone wrong. That is a worry to me and shows there is no real awareness of what is happening outside the team's bubble.
Cook was honest at the end of it all - he was obviously devastated but he fronted up and did what he had to do. He did say he was determined to try and rebuild the team, which is good to hear, and I do think he and coach Andy Flower should be the ones who lead the team forward.
But they must only do it if they really want to. I'm looking forward to interviewing Flower and hearing him say he is committed to staying on and sorting this mess out.
He must know where the problems lie and he has to put them right, otherwise somebody else has to come in and do it. If he can't pinpoint things that have gone wrong, there is an issue.
England must also learn a lesson from last summer - preparing pitches to suit yourself might help you win a series but it gives you no indication of how well your players are actually performing - and it doesn't prepare you for when you face Mitchell Johnson's thunderbolts in Australia.
That is a reason for the failure of the batting - they couldn't cope with the extreme pace.
I still hear people talk about the fast bowling of Dennis Lillee and Jeff Thomson with a measure of awe, and quite rightly so, but those of us who have watched Johnson in this series are extremely fortunate to have done so.
As an old fast bowler myself, there is nothing I like to see more than somebody coming in and bowling at 95mph. It's exhilarating, brilliant and what Test cricket is all about. It separates the men from the boys.
It's a brilliant story because three years ago he was a laughing stock and he has come back and been named man of the series after taking 37 wickets at 13.97. It's a fantastic achievement.
It was also another amazing day for the McGrath Foundation, with everyone inside the ground helping turn the SCG into a sea of pink and raising thousands for charity. Everyone has bought into the idea and it does help to put life into perspective.
Finally, it's worth noting what a fillip this series has been for the game of cricket in Australia.
There was no doubt they needed to win this, and they did just that. The country has a new batch of heroes and captain Michael Clarke's popularity has soared as a result of beating England 5-0.
Every time the Ashes changes hands, it breathes new life into the competition. That can only be a good thing.