Ashes catch-up: Fitting finale as England collapse to defeat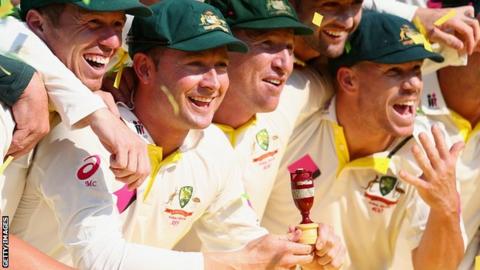 The day in 50 words
The series in a nutshell.
Australia crack another 136 with a ton for Rogers.
England target 448. Cook gone early. 87-3 then the final collapse.
Four gone in 11 balls. A token slog from Stokes and Broad then Harris mops up the tail.
Clarke lifts the urn. Australian supremacy absolute.
Full fifth Ashes Test day two report from Sydney
The ultimate collapse
In a series punctuated by England batting collapses, it seemed fitting to end with one of the tourists' most spectacular slumps as they capitulated in only 31.4 overs.
The real damage was done in an explosive spell after tea as England contrived to lose four wickets for eight runs in 11 balls.
Here's how it happened:
21.2 overs: Carberry c Haddin b Johnson 43 (Eng 87-4) - Carberry tries to slash a rising delivery over the keeper's head, only to succeed in edging behind.
21.5 overs: Ballance lbw b Johnson 7 (Eng 90-5) - Mitchell Johnson smashes a wrecking ball into Gary Ballance's pads and the finger is up instantly.
22.4 overs: Bairstow c Bailey b Lyon 0 (Eng 91-6) - Jonny Bairstow tentatively prods forward at Nathan Lyon and pops up a catch to George Bailey at short-leg.
22.6 overs: Borthwick c Clarke b Lyon 4 (Eng 95-7) - Nathan Lyon squares up Scott Borthwick, finds the outside edge and Australia skipper Michael Clarke takes a sensational diving, one-handed catch at slip.
Men of the day - Harris and Johnson
Australia pace bowlers Mitchell Johnson and Ryan Harris rounded off their brilliant series with another dazzling double act, Johnson softening England up and Harris landing the final blow.
Johnson had Cook caught behind off a horrible prod in the second over of the day, drew a nick from Michael Carberry and trapped Gary Ballance plumb in front of his stumps.
Harris accounted for Ian Bell and Kevin Pietersen, before taking the final three wickets to secure his first five-wicket haul of the series.
It was enough to earn Harris the man-of-the-match award, while Johnson was named man of the series for his staggering return of 37 wickets at 13.97.
Isn't there a song about him?
Stats of the day
England bowled Australia out twice in the match for the first time in the series.
This is the first time in Ashes history where England have lost 100 wickets in a five-match series.
England lost 72 wickets in this series to catches, the most in any five-match Test series.
Brad Haddin has taken 50 dismissals in the two Ashes series this year.
Haddin finishes the series with 493 runs at average of 61, the most runs scored by any player at number seven or below in a Test series.
Mitchell Johnson finished with 37 wickets in the series, the most by an Australian in a five-match Ashes series in Australia.
Stuart Broad became the third English player to score 2,000 runs and take 200 wickets after Andrew Flintoff and Ian Botham.
What they said
England captain Alastair Cook: "I feel pretty chastened. It's a tough moment for us all, we deserve nothing less.
"If it was a boxing match it would have been stopped. There is a lot of frustration that we have not played very well. It's all gone pretty wrong. We have been totally outplayed and that is the hardest thing to take. The crux of the matter is our performances.
"I've had the dreaded vote of confidence from the board this morning and I feel like I am the man for the job."
Australia captain Michael Clarke: "It's an extremely special occasion. The support we have had from all around Australia has been sensational.
"Throughout the series in England, I knew the boys would get their rewards for their hard work. They deserve to win 5-0. I told the three fast bowlers that they are the best pace attack in the world and I think they have earned that mantle.
"Alastair and the England team deserve credit because it was a hard-fought series. England are a wonderful team - they were once number one in the world."
The expert view on Test Match Special
Former England batsman Geoffrey Boycott: "It's pathetic - there is no other word. It's humiliation. It's bad enough to lose all five, but it's how you lose. This is a worse loss than when we lost 5-0 in 2006-07 because they had great players like McGrath, Warne and Gilchrist last time. This current Australia side has had good plans and executed them with conviction. England have just disintegrated. How do you get bowled out in 32 overs? I would have just been getting my eye in."
Former England captain Michael Vaughan: "I have never seen an England team throw in the towel, but they did this afternoon. Our senior core of players have not been able to get into any sort of form. The Australian wagon got into motion at Brisbane and England have not been able to cope since. When they come up against hostility and pace, this England side has not been able to cope with it. That last innings there showed how frazzled the team is."
Listen to Test Match Special highlights and commentary clips
The Twitterati
Former Australia opener Matthew Hayden: Ben Stokes is the only Pom I would pay money to go watch this summer. Really good talent and a nice positive for English cricket.
Former England captain Alec Stewart: Congrats to Australia. Too good for England in all five Tests. England have some tough decisions to make moving forward.
Former Australia all-rounder Tom Moody: Congratulations to this Australia XI, a phenomenal, ruthless performance over five tests. Many players careers have been launched and relaunched.
Pretty in pink
The SCG was decked out in pink on Sunday in honour of the McGrath Foundation campaign to raise awareness of breast cancer.
The charity was founded by former Australia bowler Glenn McGrath and his late wife Jane, who died aged 42 in 2008.
The two teams walked out in pink hats as a large flag showing the face of Jane McGrath was unveiled in front of the pavilion.
And at the post-match presentation, former Australia players Shane Warne and Mark Taylor wore pink blazers as they dished out the prizes.
And finally...
How's this for an image to sum up England's Ashes tour? Shortly before tea, Michael Carberry played forward to Ryan Harris and had his bat split in two.