ECB chief David Collier backs Andy Flower to continue
Last updated on .From the section Cricket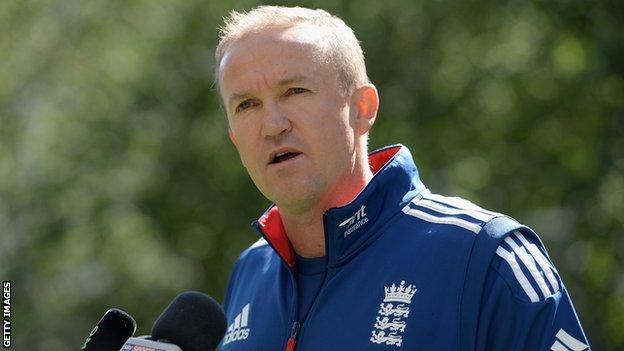 England team director Andy Flower and captain Alastair Cook have been given the go-ahead to remain in their jobs despite a looming Ashes whitewash.
England and Wales Cricket Board chief executive David Collier has offered his full support for both Flower and Cook.
Flower's position is most under threat, but the 45-year-old has suggested he is keen to build a new England team.
"We look forward to both Alastair and Andy leading us to success in the future," he said.
Collier, speaking to Sky Sports News, remains convinced that Flower, who has led England to three successive Ashes series wins prior to this series, remains the best man to lead them into a new era.
But formal talks between Collier, new England managing director Paul Downton and Flower will not take place until the end of the series.
"We need that experience," he said. "When you go through a transitional period you need somebody with knowledge, somebody who knows our system, somebody who works with all of our key coaches.
"Andy has all of those attributes and more. "I'm sure he'll do a great job leading us into 2015."
Cook's captaincy has also come under scrutiny, and some critics have suggested his form is suffering because of the responsibility of leading the team.
But Collier was equally supportive of Cook, stressing: "Alastair fully deserves our support.
"It will take some time for people to reach their absolute pinnacle. We were convinced he was the right man at the time and we're still convinced today.
"We look forward to both Alastair and Andy leading us to success in the future."
Collier has also dismissed suggestions that the ECB should respond to this winter's disappointing Ashes campaign by conducting a review, as they did when they were whitewashed 5-0 in 2006-7 when they conducted the Schofield Report into every element of the English game.
"We are not going to do a review of that nature, but we will do a full debrief and learn the lessons that we need to learn from this tour," he said.
"We have to look back and reflect on what has gone right and what has gone wrong and learn from lessons from it.
"We've had a great run coming into this series. In 13 Test matches coming into the series we'd won 10 and drew three. It had been a good year to start with but clearly we need to re-stock for 2014."