Ashes 2013-14: England whimper as Nathan Lyon roars for Australia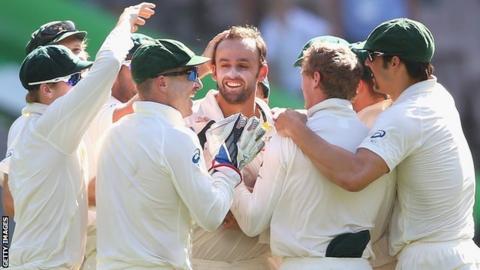 There is a colourful Hungarian expression to describe a situation so dire that it can get no lower: under a frog's backside at the bottom of a coal-mine.
England are not yet at rock-bottom. But they are close enough for the frog to be looking over its shoulder and preparing to raise its rump.
In an Ashes series of near-constant dismal days for England, it should be impossible for one to stand out from the myriad unhappy others. But Saturday at the MCG may just have managed it.
There have been many days without hope for their suffering support. That this one started with so much is precisely what made the dizzying decline so lamentable.
England began with a lead of 91. An entire second innings later they had extended it by a meagre 139 runs. At one stage they lost three wickets for one run. Undeterred, they did exactly the same a few hours later.
Australia's final first-innings wicket put on 40. England's last five put on six. It means that Australia, with all hands still on deck, need only 201 more on a good pitch to make it 4-0 in this sorry series.
For once, neither was all the damage done by Mitchell Johnson. Much was, admittedly - the key first wicket of the blameless Alastair Cook, when England were cantering along at 65-0, as well as the run-out of Joe Root that triggered the first rapid collapse - but the executioner-in-chief this time was a man with less hair on his head than Johnson has under his nose.
Nathan Lyon had already dented English ambitions with his 18 not out in that priceless 10th wicket stand with Brad Haddin. But it was his five wickets for 50 runs in 17 overs, barely a ball of which turned, that did the damage from which the tourists will struggle to recover.
Lyon has always been an underappreciated bowler. So low profile was he even a few years ago that his only role in England's last Ashes tour down under was as one of the groundsmen who prepared the pitch at the Adelaide Oval.
Even since his Test debut in 2011 he has twice been dropped by Australia, despite that entrance bringing the scalp of Kumar Sangakkara with his very first delivery as he took 5-34.
Once he was left out for the entirely underwhelming Xavier Doherty (last seen on an Ashes tour being thrashed round that same Adelaide ground by Kevin Pietersen in December 2010), and once for a 19-year-old novice, Ashton Agar, who had been so far away from selection that he had been playing club cricket for Henley.
He has made the most of his overdue return. Since coming back into the team for the third Test at Old Trafford last summer, with Agar sent away to develop in time as he should have been from the start, Lyon has taken 25 wickets in six-and-a-half Ashes Tests.
More impressively, only six of those have been against tail-enders batting below number seven. This Lyon has taken on the big beasts of the jungle and chewed many of them up.
England's own off-spinner, the far more experienced and storied Graeme Swann, stepped into retirement after taking just seven wickets in this series for the astronomical cost of 560 runs. So far, Lyon has 16 at 26.
If that is flattering enough, he has more wickets too than Ryan Harris, uniformly threatening and rightly acclaimed for his own role in Australia's ascendency.
For someone who was toiling away at the Manuka Oval for the less than stellar Canberra Comets when England won so dominantly here at the MCG last time out, it is far from the only complimentary comparison for Lyon.
With the scalp of Tim Bresnan in the midst of England's second collapse, the 26-year-old became the fourth youngest Australian bowler to 100 Test wickets - only Shane Warne, Craig McDermott and Graham McKenzie reached the milestone sooner.
Measured in days, he has also got there remarkably quickly - 849, ahead of Brett Lee (1,098) and Glenn McGrath (1,142) and behind only Marauding Mitch (609) and the wondrous Warne (735).
If Lyon has been given a little assistance in the latter by modern Test cricket's crazy shoehorning schedule, so on Saturday he was offered every possible support by England's batsmen.
This was not a display that required the black magic of the bleach-blond Warne nor even the revolutions that Swann used to put on the ball before age and an aching elbow intervened.
There was some drift, certainly, and some nice enough flight. But all five of his victims marched obligingly onto their swords, the thought of facing the 93mph bombs of Johnson at the other end seemingly enough to induce wild swings and distracted pokes.
Ian Bell, that most beautiful of stroke-players, produced the ugliest of dismissals when he meekly pushed a straight ball straight to Johnson at mid-off for a golden duck. Ben Stokes tried to go over the top and instead got only as far as Steve Smith. Bresnan slogged at a shorter one, Stuart Broad slashed at a wider one. Only Pietersen could be excused, the shot that ended his disciplined innings understandable given the recklessness of his supposed support.
It meant England, who mid-afternoon had realistic thoughts of a total of 300-plus and a lead of even more, were bowled out for just 179, ceding all momentum as another huge Melbourne crowd bayed with delight.
While the highest successful fourth-innings run chase since they started dropping in pitches here at the MCG is only 183, it will take a near-faultless bowling display and a parallel slump of English quality from the Australian XI to prevent another mortifying defeat for the tourists.
For Lyon, almost dropped from the side for a third time for leg-spinner Fawad Ahmed before the first Test in Brisbane, it is likely to be a happy finale.
The last act of his mentor in the Test set-up, former batsman Mike Hussey, was to hand over the task of leading the singing of the team's victory song Under the Southern Cross to his young apprentice.
For nine Tests came only defeat and draws. Only in Brisbane last month did the mild-mannered spinner first get the chance to open his lungs.
Since then he has done it twice more, and at some point on Sunday is likely to do so once again.
How the Lyon can now roar.