Ashes 2013-14: How Darren Lehmann transformed Australia

By Tom Fordyce
Chief sports writer
Last updated on .From the section Cricket115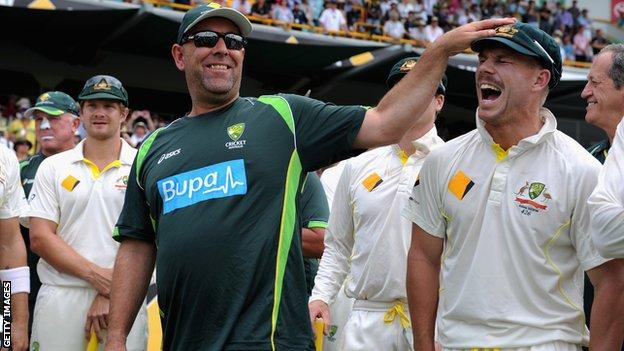 For a man who freely admits his partiality for a cold beer, Darren Lehmann's part in the Ashes victory celebrations in Australia's changing-room - being drenched with spraying lager by his celebrating players - was entirely appropriate. Perhaps the only problem was the danger of it putting his fag out.
Now, after a team that had lost seven of their previous nine Tests has hammered England in their last three and may yet go on to record a 5-0 Pom-wash, he is almost more the nation's darling than captain Michael Clarke or fast bowling wrecking-ball Mitchell Johnson.
Quite how much of this sudden success is down to Lehmann takes a little longer to divine. But one thing is immediately obvious to anyone who has been around the team over the past year: it has never been as much fun as it is now.
Each day's training begins with a joke, told by a member of the playing or support staff after being given 24 hours notice. When the team wins, there are beers on the bus. When they don't, the team does not fracture as it has in the past.
"He's an old-school kind of bloke who tells it how it is," says Glenn McGrath, Lehmann's some-time team-mate in the national side and covering this series for Test Match Special. "He's very positive and relaxed, and he's exactly what the team needed.
"He's a totally different character to Mickey Arthur. I've always got on well with him, but sometimes the way the South Africans have gone about their cricket is different to Australians.
"When he came in there were a lot of issues in the team, and something had to happen. 'Boof' brought a calming influence."
The issues that McGrath is referring to were between both coach and some players - witness the suspension of four of them on the disastrous tour to India earlier this year - and within the team, not least between Clarke and then vice-captain Shane Watson.
Arthur, who still lives in Perth, was commentating at the Waca as Australia sealed the Ashes with their 150-run win. An engaging man, he points out with little rancour that Lehmann has perhaps been blessed with a little more luck than he ever was.
"We wanted to play the brand of aggressive cricket that Australia are playing today," he told BBC Sport. "That was certainly the mantra.
"What we didn't have during that period was Ryan Harris, who was out for a long time with injury, and we didn't have Mitchell Johnson, so it was a little bit tougher. We didn't have Brad Haddin, who had such a tough time with his daughter.
"Mitchell gets rid of the top order but also the tail very quickly. Ryan asks questions of the batsman every over. To have him fit and firing now is very special for the leaders in that group.
"We tried a lot of young players. David Warner is two years more mature. So is George Bailey.
"There's no doubt that a team gets a lift with a new voice. I came in after Tim Nielsen and we won that first series against India playing exactly the sort of aggressive cricket we've seen here. And now England look mentally shot, because of the aggressive cricket that Australia have played."
For all his public image as a lovable larrikin who puts pies before Pilates and fags before fartlek, Lehmann lacks nothing as a competitor. Like Arthur, he wants his teams to be hard. More successfully than Arthur, he has got them to perform at the same time.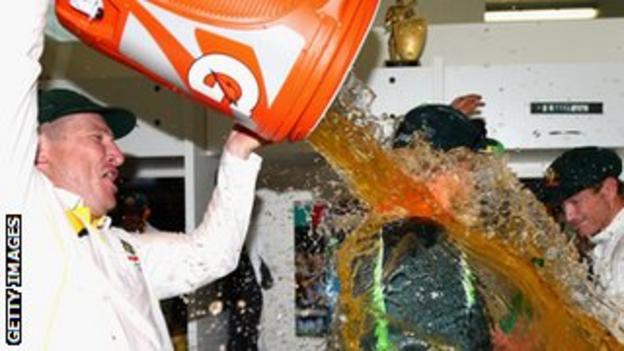 "I think the atmosphere and the belief and getting guys playing a good attacking brand of cricket was essential for us with where we wanted to get to," he said in the aftermath of the win in Perth. "I think we've shown that in the first three Test matches."
McGrath, as friendly off the pitch as he was once unremittingly hostile on it, agrees.
"Australian teams play best when they have a bit of mongrel about them," he says. "Just that bit of aggression, being in your face, playing with heart. And when you've got a guy like Johnson playing the way he has, that fires up the whole team. You grow an extra limb, as they say."
Neither is Lehmann a soft touch with his own players. While he may have been mates with Clarke when the kid known as Pup made his Test debut nine years ago, he has set exacting standards; on Monday evening, with his side on the brink of the Ashes, he gave them "a bit of a lashing" for the way they had bowled against Ben Stokes in the final session.
"We're brutally honest," Lehmann says. "But they keep learning and that's all we want to do. The way they've all gone about it on and off the field has been exceptional."
Then there are the plans designed for each of England's dangermen, so successful that the key men in the tourists' triumph three years ago - Alastair Cook and Kevin Pietersen, James Anderson and Graeme Swann - have all been entirely neutered.
"The way we wanted to bowl to each particular batsman from one to 11 and the way the bowlers went about it, was exceptional," says Lehmann. "I don't think they've made over 400 in the last eight Test matches, so our plans are pretty good.
"The simple fact is we didn't bat well enough in England, full stop. We've batted well here and made some runs.
"In England we lost those key moments. Here we've won them. We kept going at them day in and day out."
Key blows were landed even as that corresponding series in England last summer was lost 3-0. Cook and Pietersen both averaged in the low 30s. Anderson, after a man-of-the-match display in the first Test at Trent Bridge, struggled to exert the same influence again.
What appears to be a miraculous renaissance in the last 28 days was already underway in the UK. Had it not been for rain at Old Trafford and the Oval, the events of the past three Tests might have come as less of a statistical shock.
"Everything was heading in the right direction at the end in England," says McGrath.
"They found a better combination in the batting order by the Oval, while England were coming off a bit, probably thinking everything was fine.
"But I'm not sure they played well enough to win 3-0. I think Australia lost the Ashes. England had a lot of issues covered up by Ian Bell playing so well, and here he hasn't."
Along with John Inverarity, the chairman of Australia's selectors, Lehmann has shown admirable calm and consistency, even if injuries have gone his way. After Australia used 17 players in those preceding Ashes and a full 22 players in their run of nine winless Tests, they have stuck with the same side throughout this series.
The big challenge for Lehmann is now making it last.
This is already an ageing team. Chris Rogers is 36, the same age as Haddin. Harris is 34, Clarke and Watson 32. Bailey, three matches into his Test career, is already 31.
There are good young players to come in - Alex Doolan with the bat, James Pattinson and Pat Cummins with the ball, Peter Nevill with the gloves - but they are either unproven at the highest level or so far susceptible to injury.
"My worry for the Australian side going forward is that it needs to be sustainable, but that the holes we tried to fill during my tenure are still there," says Arthur.
"It's an old team. Who is the next opening batsman? Is Bailey good enough? Who is the next keeper? What happens when Harris goes? They will face all those issues in the next year or two."
Tougher challenges also lie in wait. Australia must next travel to South Africa, the number one ranked team in Test cricket. Arthur too started brilliantly, winning that first series against India 4-0, only for his authority and results to fade away.
Lehmann must be aware of those precedents. But for now he can bask in both the success of his team and the gratitude of his nation.