Trent Johnston handed Irish women & national academy roles
Last updated on .From the section Cricket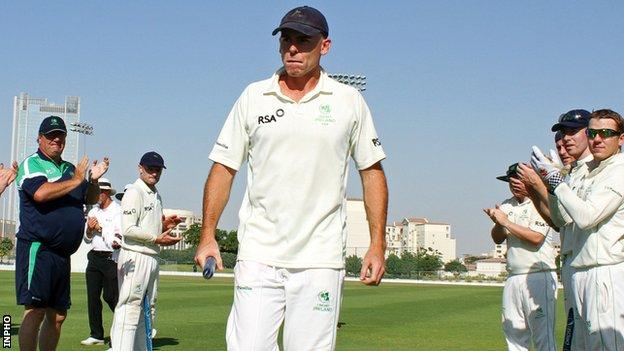 Trent Johnston has been named coach of the Ireland women's team and has also been appointed as fast bowling coach at the new Irish National Academy.
However, Cricket Ireland have moved quickly to keep Johnston involved in the country's structure.
"It's a great honour to be given these new challenges," said Johnston.
"It's certainly a new chapter in my life and one I'm looking forward to immensely."
"I'm on a two-year deal to coach the Ireland women and it'll be a baptism of fire as we're taking part in a tri-series in Qatar in January with full members South Africa and Pakistan.
"That's followed by Ireland's first T20 finals in Bangladesh.
"It's going to be tough because we'll be the only associate member there - but I wouldn't have it any other way," added Johnston, who made 198 appearances for Ireland.
Johnston, who takes over from Jeremy Bray in the women's role, has previously worked with the women's squad.
"But this is different in that I'll be head coach this time around and I'll have ultimate responsibility.
"I'll enjoy that and hopefully in time I'll get them playing the brand of cricket that I've played."
In addition, Johnston's part-time role with the National Academy will see him working with Ireland's next generation of pace bowlers.
"It's a great job fit for me and it'll be great helping shape the future of Irish cricket," said the Australian native.
"I had discussions with Richard Holdsworth and national academy manager Craig Hogan and they were both keen to keep me involved with this side of things.
"I'm going to be busy as I'm also keeping my role as Leinster Lightning coach.
"I'll be surrounded by good people and I'm certainly going to take advice from those around me - I'm sure I'll be on the phone to Simmo (Phil Simmons) bouncing ideas around."
Johnston will cut short his planned family holiday to Australia to bring the Irish women's squad to Qatar in early January.