Ashes 2013-14: Agony for Swann and Anderson - third Test catch-up
Last updated on .From the section Cricket
The day in 50 words
It gets even worse.
Australia charge, 134 in 17 overs.
Centurion Watson butchers Swann. Bailey smashes world record 28 off Anderson over.
Merciful declaration. Target 504, two days to save the Ashes.
Cook gone first ball, Pietersen plays into trap.
Bell battles, Stokes impressive.
251-5 - coronation delayed by a day.
Full day four report from Perth
The Aussie onslaught
While England have been broken by the Australia pace attack, home batsmen have nullified then dismantled the tourists' most successful bowlers, James Anderson and Graeme Swann.
On the fourth day in Perth, the onslaught bordered on humiliation.
Swann was taken for 14 runs from the first over of the day by Shane Watson, who scored 71 runs off 41 balls in the morning session on the way to a century.
That, though, was nothing compared to the punishment given to Anderson...
Assault on Anderson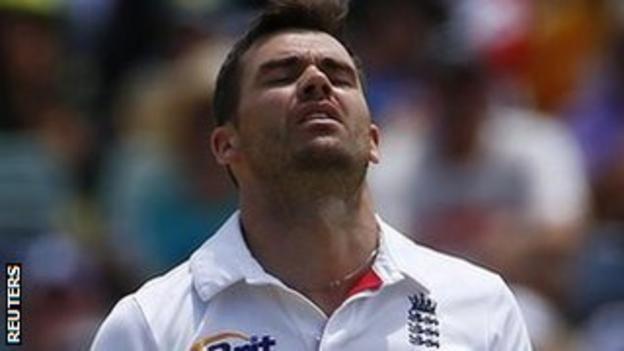 In what turned out to be the final set of the Australia innings, George Bailey plundered Anderson, the leader of England's attack, for a world-record equalling 28 runs from a single over.
Here's how the over unfolded:
Four - edged over slip for four
Six - straight back over the bowler's head
Two - a flick to the leg side
Four - just short of the leg-side rope
Six - hammered over long off
Six - pummelled over long on
Bailey's brilliance equalled the record of Brian Lara, who dished out similar punishment to South Africa's Robin Peterson in 2004.
Watch Simon Hughes's analysis of Bailey's assault on Anderson
Are we playing the same game?
England had seen Australia dismantle their bowling to the tune of 134 runs in 17 overs, so may have taken some heart as they began their quest to bat two days to save the match.
That hope didn't even last for one ball.
An absolute beauty from Ryan Harris bowled Alastair Cook with the first delivery of the innings, the first time the England captain has departed for a golden duck in his 100 Tests.
Joe Root and Michael Carberry fell, while Kevin Pietersen played as Kevin Pietersen does. A six down the ground off Nathan Lyon, but an attempted repeat ended in the hands of long on.
The small crumb of comfort was an impressive maiden half-century by Ben Stokes in a stand of 99 with Ian Bell, who also passed 50 before feathering a catch to Brad Haddin behind the sticks.
Stokes and Matt Prior face a tall order on the final morning and the gigantic cracks in the pitch are likely to help the bowlers over the batsmen.
Watch Ian Bell's media conference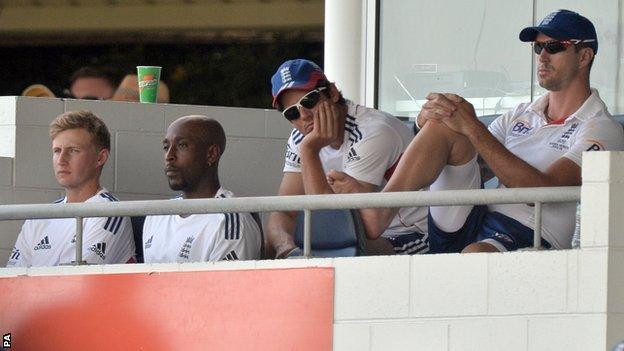 Stats of the day
Cook is the first man to get a first-baller in his 100th Test.

Between them in this series, Anderson and Swann have taken 14 wickets at a cost of 969 runs. Each wicket has cost an average of 69.21 runs.

Australia have scored 36 sixes in the series, which is a record for them - five more than they scored against India in 2000-01.

In the 42 Tests since Ryan Harris made his debut, Australia have won 10 and lost five of the 18 he has played and won eight and lost 11 of 24 when he hasn't.

Ian Bell has scored at least 50 in 16 of his last 21 Ashes innings.

This is the first time in Test history that a team has set another team more than 500 to win in three successive matches.
What they said
England batsman Ian Bell: "We have been put under a lot of pressure, the way Mitchell Johnson has come in aggressively with Ryan Harris and Peter Siddle backing him up. Apart from day one in Brisbane where we bowled well we have been on the back foot. A lack of first innings runs has put us under a lot of pressure."
Australia all-rounder Shane Watson: "We've had quite a few bad experiences against Jimmy Anderson - I've certainly been a part of that. It's always nice to see the shoe on the other foot. We've been at their mercy at times, so it certainly provided a bit of enjoyment for us."
Watch Shane Watson's media conference
The expert view on Test Match Special
Former England captain Michael Vaughan: "There are naughty boy nets, and the equivalent could be to send this team out to play at the MCG in front of 100,000. It might do more harm than good to throw the kids into that. But it might also work the other way because they are fresher and keener."
Former England batsman Geoffrey Boycott: "Pietersen won't play in a careful, controlled manner. It's a selfish as you can get. You wonder what Andy Flower and Graham Gooch are doing. Are they strong enough to say something to him?"
Former Australia fast bowler Glenn McGrath: "Stokes has played well. He has been very watchful. He's a steady cricketer who can bowl at the high 120s or 130s (km/h) - he's a typical English all-rounder. You know what you're getting day in, day out."
Listen to Test Match Special highlights and commentary clips
And finally...
Speaking to the media at the end of day three, Australia's Chris Rogers said that the cracks developing in the Waca pitch could make it "scary" for England's batsmen.
Perhaps they would prefer it if the cracks swallowed them up?