Kate Cross: Ashes win may boost England financial returns
Last updated on .From the section Women's Cricket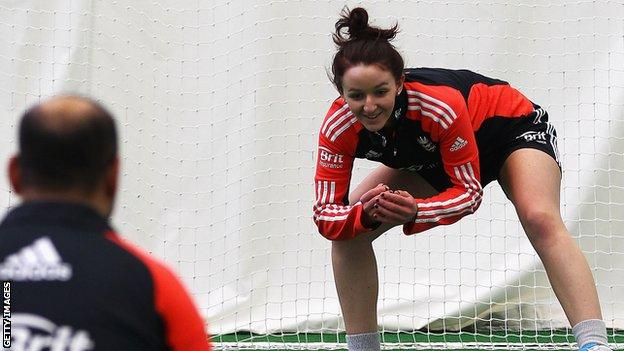 Kate Cross hopes victory in the upcoming Ashes series in Australia will lead to England players receiving greater financial rewards for their efforts in future.
"As England players, we're contracted by ECB and we receive tour fees as well, so it's going in the right direction," the 22-year-old seamer told BBC Radio Manchester.
Lancashire bowler Cross is that will defend the Ashes in a seven-game series starting in January.
Australia's players have the potential to be some of the highest-paid female athletes in their country after the changes that were approved in May, which could see them earn in excess of AUS$70,000 (around £40,000) per year.
The current England squad are contracted by the England and Wales Cricket Board, with six players also employed as coaching ambassadors for the Chance to Shine project, which is aimed at getting more youngsters playing the sport.
That system allows elite England players to combine their respective international careers with earning a living.
"The progress we've made in the last five or 10 years with the women's game is due to the progression that the team's making and the performances that the girls are putting in," continued Cross. "That's mostly down to the hard work and the passion that the girls have.
"There's not as much money in it for the girls, but you can see with the performances that it's just pure passion from the girls, and them actually wanting to be there and playing."
Cross impressed during appearing in three one-day internationals and one T20 match against the West Indies, but she admitted that her Ashes call-up was something of a surprise.
"There's big competition for places and there are a lot of girls coming back from injury, so I didn't know what was going to happen when I got the call on Sunday," she said.
"It's a great opportunity to be able to go over to Australia and play in the Ashes. It's the pinnacle of cricket and it was fantastic to hear [of her selection]."
England, captained by Charlotte Edwards, were earlier this year by a 12-4 scoreline - the series being decided by a points system, combining results from all three formats of the game.
"That sounds quite convincing but obviously it will be a challenge over there," added Cross. "It will be different conditions and the heat will play a big part, but we've definitely got the ability to retain the Ashes."