The Ashes 2013-14: Australia and England's contrasting captains

By Tom Fordyce
Chief sports writer
Last updated on .From the section Cricket276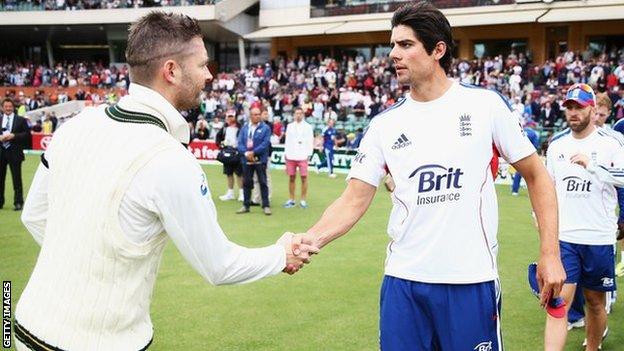 They are two men with everything in common, but at the same time almost nothing.
On Friday, history brings Alastair Cook and Michael Clarke together: both making their 100th Test appearance, both captains of their national sides, so neatly matched that only 57 runs separates their overall Test aggregates of almost 8,000 apiece.
You can go on - both centurions on their Test debuts, both in India; one with 25 Test centuries, the other, thanks to his efforts a week ago, now with 26.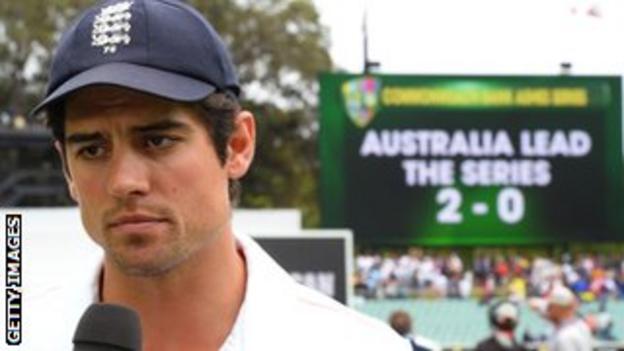 But then there is the glaring gap between the two.
While one is cock of the walk, a century in each of his last two Tests and the Ashes within reaching distance, the other has just recorded his lowest score across two Test innings, and is on the brink of becoming only the third English captain in 30 years to hand back the urn.
As characters, too, the mutual cricketing respect cannot disguise the wide gulf. Cook is as likely to sport a diamond earring and tattoo of his parents' names - in Hindi - as he is to open the bowling during the third Test; the only time Clarke would be seen tending lambs, as Cook does on the family farm, is between marinade and barbecue in his Sydney back yard.
For Cook, not 29 years old until Christmas Day, the satisfaction of being the youngest player in history to join the Hundred Club (he and Clarke will be the 57th and 58th) is almost entirely negated by the predicament that his side currently find themselves in.
No matter that he has raced to that landmark even quicker than Sachin Tendulkar, who made his Test debut five years younger, or that if he keeps going at this rate he could surpass Tendulkar's record of 200 Test appearances by his 36th birthday.
Not only does he understand that a skipper, for all the funky field placings and bowling changes he might make, is judged ultimately on big results in big series, but he appreciates that the pressures of captaincy can make or break the batsman who accepts them.
Since taking over as permanent England captain from Andrew Strauss at the end of the summer of 2012, Cook has averaged 44.2. His overall Test average is 47.2.
You might not think that worth a statistical mention. But after making four centuries in his first two series in charge, and averaging 80 in his very first as he led England to that record-breaking comeback in India, he has seen his average in this calendar year collapse to just 33.
And here is another key point of divergence. Since Clarke was appointed the permanent successor to Ricky Ponting in March 2011, he has averaged 65 in Test cricket. His average before that? 46.
Only Sir Donald Bradman can surpass that number as the leader of the baggy green, with a peerless 101.54. Clarke's numbers are better than two men both far more revered as captains, Greg Chappell (55.38) and Bob Simpson (54.07).
Across the world, only Kumar Sangakkara has a better average than Clarke among skippers who have led their nations in more than 15 Tests.
It helps explain why, aged 32 and with all those Tests behind him, Clarke has finally reached a level of popularity in Australia that befits a man with his batting record.
For many years, it was anything but. While Cook has always been hugely admired in England, if not adored as were more colourful folk heroes like Botham and Flintoff, Clarke has often barely been tolerated on his home patch.
When he was made skipper in place of the injured Ponting for the fifth Ashes Test in Sydney three years ago, a survey in his native city of Sydney found that only 15% wanted him to be given the job long-term. More popular by far was Simon Katich (too old, injured), Mike Hussey (too old), Cameron White (not Test standard) and even Shane Warne (many months and large meals retired).
Why? Clarke had gained a reputation early in his international career as a player who enjoyed making commercial cash a little more than a young pup should. Within a year of his debut, with a Ferrari in his garage, he had signed lucrative endorsements with an underwear manufacturer, a bat maker and a chocolate drink firm.
There were his relationships outside the team - as model Lara Bingle became his ex-girlfriend, he left the Australian tour of New Zealand to deal with the fall-out - and his relationships within it.
At the end of every Test match win the Australian team sing their victory anthem 'Under the Southern Cross I Stand'. After the West Indies had been beaten at the SCG in February 2009, Clarke reportedly wanted it sung early so he could leave to spend time with his family and Bingle. The more traditional, church-going Katich disagreed; a fierce argument ensued.
What is helping to erase those sour memories from the minds of the Australian sporting public are two things: the cold, hard results Clarke is now achieving with the Test team, and the cold, hard way he is going about it.
Once derided as a metrosexual big city boy, in a society that still likes to think of its national character as formed by the privations of bush living even as the vast majority know only suburbs and sofas, his instruction to Jimmy Anderson at the Gabba to prepare for broken bones has re-cast him as Australian sporting heroes are meant to be: gritty, unyieldingly competitive, unflinching from confrontation.
Inside Clarke's left forearm is another tattoo, a series of Arabic letters that roughly translate as, 'The pain of discipline is nothing like the pain of disappointment'.
It is a little ironic, then, that the arrival of the more relaxed regime of coach Darren Lehmann has allowed him to flourish as seldom before.
Lehmann was part of the same team in which Clarke made his Test debut in Bangalore nine years ago. At the opposite ends of their playing careers then, they have now formed a partnership that seems to be turning the team around from hapless (seven defeats in nine) to heroic, pulling off consecutive 200-run victories over England for the first time in more than 100 years.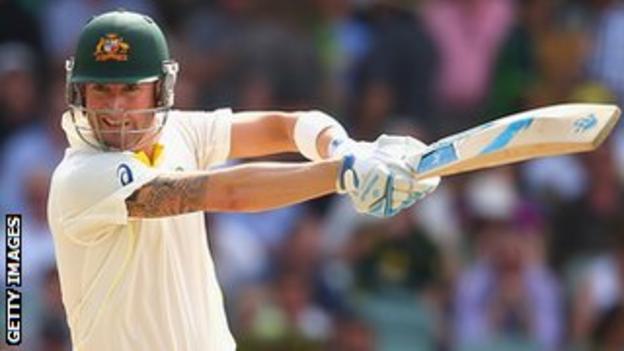 Whether this makes Clarke a better Test captain than Cook is more debatable. As was often pointed out to Ponting, your own record is often entirely dependent on which players you have at your disposal.
Ponting had Warne, McGrath, Gilchrist, Langer and Hayden; Clarke this time around has the best two bowlers, in Mitchell Johnson and Ryan Harris, and the top four batsmen by series average.
There are rays of sunshine for Cook as his landmark approaches. While both skippers' form has reversed from the corresponding series three years ago (while Cook averaged 127.6 in 2010-11 and Clarke 21, the numbers now read 20 and 71) the Waca has seldom been a happy hunting ground for Clarke. His average here, 37, is his worst at major Test venues in this country.
Cook is likely to go on to play more Tests. He may also captain for longer. But this Ashes series will go a long way to decide how both men as leaders are remembered.