Chris Adams: Ex-Surrey coach in talks over return to cricket
Last updated on .From the section Cricket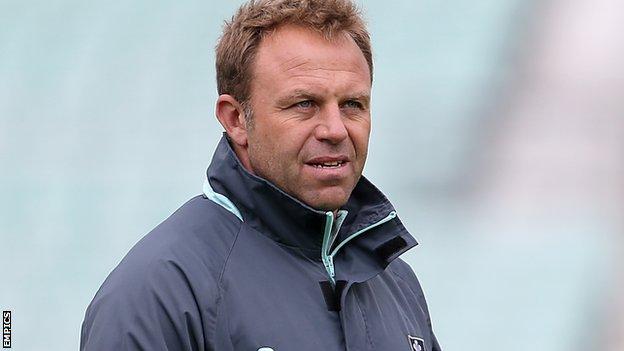 Former Surrey team director Chris Adams says he is in discussion with three counties over a return to coaching.
"I can't name them as it's not fair. They are all varied roles," Adams told BBC Sussex.
"I am committed to going back into coaching. It is about the right opportunity and not necessarily jumping on the first job that comes up."
He added: "I definitely don't want to be in a suit or at a desk. It is about making sure that when the right opportunity presents itself that I am ready and prepared to take it."
Adams has revealed he will not rejoin former club Sussex, following talks with the club about returning to Hove.
Adams spent 11 years as captain of Sussex, leading the club to three County Championship trophies, before leaving at the end of the 2008 campaign for the coaching post at Surrey.
"I've recently had conversations with the people that matter and count down there - the chief executive [Zac Toumazi] and Mark Robinson [Sussex cricket manager]," he said. "The time isn't right for them at the moment.
"It comes down to an equation. There is no job and they would be effectively creating a role.
"I respect and understand that. Life isn't terribly romantic all the time.
"I didn't want to leave in the first place but I felt it was the right time and the right thing to do, given that I knew there wasn't an obvious position for me at the club and my career as a player was coming to an end.
"I'd like to think that in the future there may be a return."