Ashes 2013-14: Dropping Graeme Swann may help England in Perth

By Alec Stewart
Ex-England captain & Test Match Special summariser
Last updated on .From the section Cricket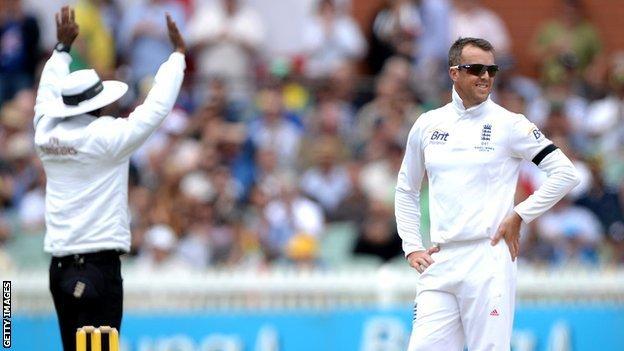 It was bitterly disappointing to see England receive another heavy beating in the second Ashes Test to go 2-0 down in the series.
After the bruising they took in Brisbane, I thought at worst they would walk away with a draw on a flat pitch in Adelaide. But they were blown away in the first innings, and although they put up a fractionally better fight in the second, by then the game was as good as gone.
The defeat leaves England in a desperately difficult situation, with just three days to try to recover and regroup before the third Test in Perth, a venue where they have lost on each of their last six visits.
It is probably the quickest and bounciest pitch in world cricket, so the conditions will be alien to most of our players, and yet somehow England must produce a dramatically improved overall performance.
As Alastair Cook said in his refreshingly honest post-match interview, every individual in that team needs to have a long hard look at themselves and how they are going about their work.
In terms of the make-up of the team for Perth, the selectors need to think hard about which combination of players gives England the best chance of winning the game. Knowing Cook and Andy Flower as I do, they will not shy away from taking the tough decisions necessary to get England back into this Ashes series.
One option they should seriously consider is leaving out the spinner from the final 11 and playing a four-man seam attack, which would mean no Graeme Swann or Monty Panesar.
It is not a decision they should take lightly because Swann is a world-class spinner and has played a very important role in the successful England set-up for a number of years. Throw in his excellent catching at slip and the potential lower order runs he offers and it becomes clear why it would be a huge call.
But so far in this series, Australia's tactic of taking on the England off-spinner has been very successful, with Swann claiming just four wickets at an average of 99, a cost of more than four runs per over and the less than flattering strike rate of a wicket every 147 balls bowled.
At a venue like Perth, where spinners have traditionally struggled to make a major impact, England may be better served by going with a fourth seamer and relying on Joe Root and Kevin Pietersen to provide the part-time slow-bowling options.
In the batting department, it is essential that England pick their best run-scorers at numbers one to six.
The top five from Adelaide will keep their places, but if England decide to bring in Gary Ballance at six, I would still be tempted to retain Ben Stokes and move him down to eight.
This would kill two birds with one stone by giving England a fourth seamer and lengthening the batting order. With Matt Prior at seven, Tim Bresnan at nine followed by Stuart Broad and James Anderson at 10 and 11, suddenly England's lower order would have a bit more depth.
Bresnan's selection is a no-brainer. You always need a strong "into-the-wind" bowler in Perth to cope with the Fremantle Doctor - the stiff sea breeze that blows down the ground - and his ability to reverse swing the old ball could also come into play.
Consideration will also be given to the tall pace bowlers - Chris Tremlett, Steve Finn and Boyd Rankin - in the hope they could exploit the excessive bounce at Perth. If they do go with one of the big guys then only one of Ballance or Stokes could then play.
Regardless of the 11 selected, unless England's batsmen can come up with an effective plan to cope with fast, short-pitched bowling they will have no chance at the Waca.
Are they really going to continue with their reckless hooking and pulling with two men back on the boundary? Or are they going to eliminate the risk element by ducking under or swaying out of the way of the short stuff and therefore forcing the Australian bowlers to pitch the ball further up?
I would never advocate taking away someone's attacking options, but with any shot you have to weigh up how many runs it brings you and how often it is getting you out. And you don't need to be a mathematical genius to work out how costly taking on the bouncers has been to England so far.
Having a game plan, choosing the right shot to play and then delivering those objectives are the basis for success. This group of batsmen have proven track records but currently are not doing the job expected of them, which is scoring big runs.
Australia have surprised almost everyone with the quality and intensity of their cricket and I don't expect any let-up from them as they seek to finish England off and win back the little urn.
Can England stop them? The heart says yes, but sadly the head says no.