Karl Krikken: Derbyshire reshuffle forces coach to re-apply for job
Last updated on .From the section Cricket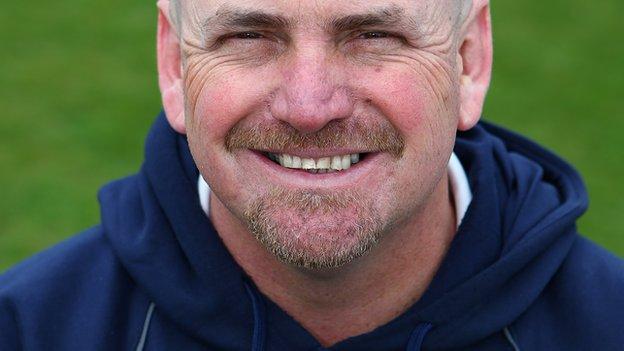 Derbyshire head coach Karl Krikken will have to re-apply for his job after the club announced they are restructuring their management set-up.
All the coaching team will have to re-apply for positions and the club will also be looking at external candidates.
Chairman Chris Grant said: "We are very excited by our new structure."
The backroom reshuffle is the result of a series of reports and will see and elite cricket performance director overseeing the key areas of strength & conditioning, psychology, lifestyle, batting, bowling, wicket-keeping and fielding.
Grant added: "Reinforcing a culture of high performance across the club is essential if we are to fulfil our ambitions on the field; a learning that came through loud and clear from our experience in Division One last season.
"We are confident that these changes to our cricket model will enhance our chances of success in the years to come across all three domestic competitions."
Derbyshire already had one backroom vacancy, with batting coach David Houghton having left the club in October, prior to taking up a similar position with Somerset.