Ashes 2013-14: Where do 'mangled' England go from here?

By Tom Fordyce
Chief sports writer
Last updated on .From the section Cricket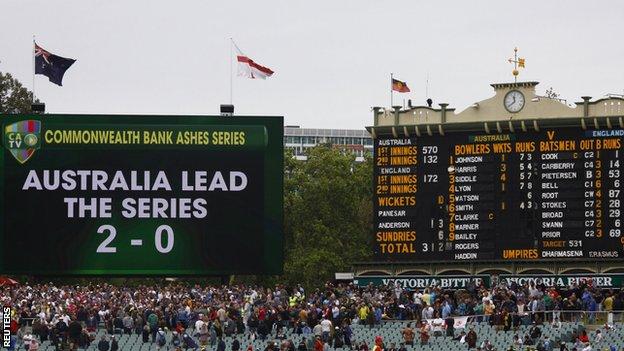 A 381-run defeat in the first Test, a 218-run mangling in the second. The next match at a ground where they have lost each of their past six Test matches.
Only one side in history that has been 2-0 behind in an Ashes series down under has come back to win, and that one featured the greatest batsman of all time, Don Bradman, at his peak. Only once has a series here been drawn 2-2, and even then neither side was ever more than one Test down.
It sounds impossible. But so too did two such performances from an Australian side that had lost seven of its previous nine Tests and only drawn the other two. So how do England turn around this Ashes series from here?
The mental
"What worries me about the England team is their thinking," former captain Michael Vaughan told BBC Sport. "If they're not thinking correctly, this series has 5-0 written all over it."
How to think correctly? "We know that attitudes are contagious, so you want to make sure that the right attitude is infecting the team," says Amanda Palmer, an expert psychologist at the Australian Institute of Sport.
"When it comes to losses, it's really easy to point the finger. Teams have the media, the public, friends and partners all with opinions. It's really easy to find a scapegoat, but the really successful teams are able to share responsibility in both wins and defeats.
"Acknowledge what has happened, and try to move on. Because the harder we try to ignore things, the more caught up we get in them.
"It's very easy to get caught up in the distractions - this team has just beaten us, we don't have a good record on this ground, our belief is down. But when you do that you're ignoring the fundamentals within your control.
"You can't control the pitch or the crowd. But you can control your own behaviours. Focusing on the outcomes is the 'what', and that means you miss out the 'how'."
What of dealing with the unstoppable bogeyman? Mitchell Johnson has taken 17 wickets at an average of just 12 in the two Tests so far, three times triggering heinous collapses in England's batting. How to neuter his threat in the three Tests that remain?
"As humans we tend to spend a lot of time thinking about our past," says Palmer. "But if that's where our focus is, it's really hard to focus on the task in hand, and where we are now.
"When people believe a particular opponent has the upper hand, it's really hard for them to see past the present situation. The negative thoughts and self-doubt are really strong, and they can consume a lot of our energy and attention.
"Sit down and acknowledge the issue. Admit it has happened in the past, but then ask, where do we refocus our energies in the future to counteract that individual?
"Don't ask, what is this individual going to do to us? We can't control other athletes and their behaviour, but we can control how we respond to that person."
The practical
England have only ever lost consecutive Tests by 200 or more runs once before, and that was more than 100 years ago.
The main fault line this time around? The fault-lines and foibles in their top six. And if that does not improve in Perth, Melbourne and Sydney, even the delusionally optimistic can probably abandon all hope here.
"England played all right in the second innings in Adelaide but they still only got 312, and that's not going to win you Test matches in Australia," says Vaughan, scorer of three centuries on the Ashes tour of 2002-03.
"I don't look at this team and think, 'There's 450 in there', but that's what they're going to require to put this Australian team under pressure. Four of them have got out playing the pull shot on a slow wicket - what's it going to be like at the Waca when it's zipping past their noses?"
For the 20th consecutive Test innings, England failed to make 400 runs in the last two days at Adelaide.
Their captain Alastair Cook is averaging 20 in the series, their kingpin batsman, Kevin Pietersen, 25. Australia, by contrast, have skipper Michael Clarke averaging 71 and two other batsmen, David Warner and Brad Haddin, both averaging over 88.
Australian batsmen have scored four centuries, English batsmen none. Five Australians average more than any of their opponents.
"You can get away with moderate bowling, but you can't get away with moderate or poor batting because you've no runs to play with," says TMS pundit and former England opener Geoff Boycott.
"It's a bit like golf - you can hit the ball a million miles, straight as a die, but if you can't putt, you can't win.
"I've worked out 50% of the wickets from the top six batsmen and the wicketkeeper in four innings - 14 of 28 - have been given away with bad shots, hooking and pulling when they shouldn't.
"I'm glad I'm not asking them the questions as I may get punched, because I would say, 'Why do you keep hooking?' We're making 30s, 40s, 50s but nearly everybody is playing bad shots.
"You can play any shot in the world [but] unless it's going to give you about 40 runs before you get out to it [it's not] worthwhile. If you're bowling, you don't bowl a ball that percentage-wise keeps getting hit for four."
"The senior lads have to step up to the plate," says Vaughan. "Joe Root, as a young player, almost pointed the finger at the senior players with his 87 on Sunday and said 'Lads, this is how you do it.'
"The senior players are the ones who have to get England out of the mess they're in. You can't expect the young players to be doing it."
The technical
Of the 12 Ashes Tests played at the Waca, England have come out on top just once - in 1978, when Australia's team had been wrecked by the breakaway World Series.
It is not a happy record. So how do their batsmen and bowlers need to change their approach to flourish under its unique demands?
"The thing about batting here is that, while it can be a batsman's paradise, the margin for error is a lot smaller than at other grounds," former Australian opener Justin Langer - a Perth native who scored 711 runs, including two centuries, in 10 Tests at the Waca - told me before England's last defeat there.
"If you nick it, it usually carries to the slips, so you have to be very careful driving. You have to be selective when you go for it. Make sure you're in a perfect position or you're gone behind the wicket.
"If you're going to drive, you need to strike the ball as under your eyes as possible. If the ball gets outside your eye-line, because of the bounce and big carry through behind, you can get yourself in trouble. You're flirting with danger.
"Technically you need to be quite correct, because if you're loose the extra bounce will find you out. You have to keep it all nice and tight.
"The rule of thumb is to play the ball as late as possible. Playing with soft hands is a big thing. If you're watching the ball onto your bat and playing late, you'll have those soft hands naturally because you're not as far through the shot. People talk about hard hands, but you mainly play with hard hands when you're hitting the ball away from your body."
Langer, now Western Australia head coach, has scored more runs at the Waca than any other batsman in WA history. He also shares the record for the highest Test partnership at the ground.
So what traps should England's pace attack avoid falling into?
"You actually have to pitch the ball up a little more because of that advantage with bounce," he said.
"You're pushing the batsman back because of the pace and lift in the wicket, but you want to bring him forward because that's where those nicks will come into play."
The tactical
Cook spoke well after the humbling defeat in the second Test. He was also bullish about England's chances of breaking that Waca hoodoo.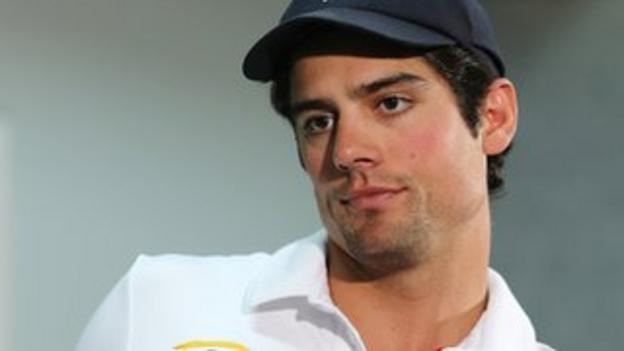 "What has happened at Perth before is a total irrelevance to this side," he said. "We have to go there as this side, in 2013, and do something special. Good players turn it around. That's what we must do."
Quite what Cook himself should do is another matter. Not once in his seven-and-a-half-year Test career has he recorded a match aggregate lower than the one he totalled at the Adelaide Oval.
Heading to Perth three years ago, Cook had made 450 runs from his three innings. On this tour he has 82 from four. How does he get his form right while also not neglecting his onerous and urgent leadership responsibilities?
"That's his biggest challenge - forget the captaincy element, he has to get his own game in order," says former England spinner and now Test Match Special pundit Vic Marks.
"It's sometimes the hardest thing for a captain to do, because you've got so many things going on around you. You see other players in your squad struggling and you're diving around trying to help them.
"But actually the best thing Cook can do is to cut himself off a little bit, go to the nets, work with [batting coach] Graham Gooch and be a bit selfish - although it's not being selfish, really, to work his game out because if England are going to get runs at the top of that order, he's going to have to get them."
Then there is the team's selection.
Root has solved the issue of who should bat at three, at least for the moment, but behind that lie several critical dilemmas.
Ben Stokes, while relatively impressive with the ball, does not yet look a Test number six. That would suggest Zimbabwe-born Gary Ballance should come in there, but that has knock-on effects lower down.
Tim Bresnan's strength would be a considerable asset bowling into what is often a fierce wind at the Waca, with the Fremantle Doctor likely to offer some swing for both him and Jimmy Anderson.
England too are almost certain to drop one of the two spinners they picked in Adelaide. Less certain is which one remains.
Leaving out Graeme Swann was, even a month ago, unthinkable. But having taken just four wickets for 397 runs from his combined 98 overs in the series so far, he has offered little threat. Monty Panesar, meanwhile, has taken his two wickets at an even higher strike-rate; while he prospered in one innings at the Waca seven years ago, he was dismantled by Adam Gilchrist in the other.
Australia? Barely had Michael Clarke led his men off the field at the Adelaide Oval when his selectors announced an unchanged team.
England, it is clear, have all the issues. And they have precious little time to solve them.