Ashes 2013-14: England down but not out - Jonathan Agnew

By Jonathan Agnew
BBC cricket correspondent
Last updated on .From the section Cricket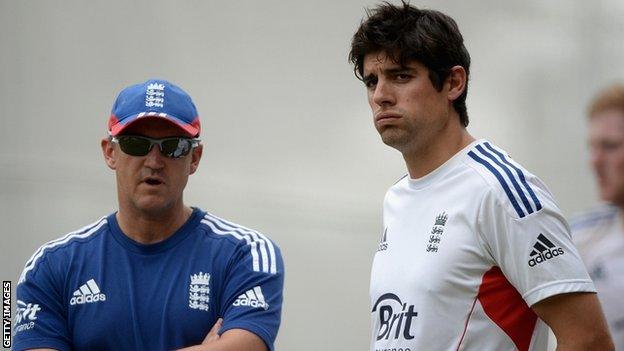 A second crushing defeat by Australia has left England at their lowest ebb for many years.
This actually feels more deflating than the 5-0 whitewash in 2006-07, or even the countless thrashings in the 1990s, because England arrived in Australia as favourites to win the series.
Instead they have been been blown away by an irrepressible force, first on a bouncy track at the Gabba that played to Australia's strengths, and then, inexplicably, on one of the flattest pitches you could wish to see here at Adelaide.
Somehow, England must now pick themselves up and find a way of fighting back into the series in Australia's fortress of Perth, a venue where England's only victory came against a weakened home side in 1978-79.
Can they turn it round? I think they can, but it is going to take real character, courage, self-belief and a fair portion of luck.
Above all, they are going to have to change their attitude towards the way they play the game.
So far in this series, 21 of England's 40 dismissals have come to catches on the leg side. It is an extraordinary statistic and one which gets right to the heart of the reasons for England's disastrous batting displays.
It is a question of percentages. If you play with a vertical bat, the odds are stacked in your favour, but if you start playing with a horizontal blade, you are drastically increasing your chances of getting out and that is what we have been seeing far too much of from England in the series so far.
England batsman should not be afraid of playing shots, but they have to put a higher value on their wicket because they know what Australia fast bowler Mitchell Johnson is likely to do to the lower order.
It is not rocket science - you have to play straight or sway out of the way. It is as simple and basic as that.
Kevin Pietersen showed signs of playing more responsibly in his second innings, but why wasn't he playing like that earlier in the series?
He is a top player, who has 101 Tests under his belt, so he should know what is takes to succeed. You can't just mosey in and play like a millionaire all the time, you have to respect the game, work hard and play yourself in.
England's batsmen should take their example from Joe Root. He is the youngest player in the team and yet he buckles down and focuses on his own game.
Unlike several of the others, he also doesn't allow himself to get distracted by silly sledging battles. It is fine to play with a bit of a swagger when you are winning, but if you carry on like that when you are losing, you just end up looking a bit silly.
England captain Alastair Cook has been very honest in saying that the team's improvement has to start with him and he is right. The captain has to carry the can for what is going on.
I don't think Cook is playing badly or has any major technical problems. He got bowled by a quick ball because he was exhausted in the first innings and then played a shot that was totally out of character in the second.
He just desperately needs to clear his mind, ideally win the toss, and then set about helping England build an imposing first innings total at the Waca.
In terms of selection, England will revert to their standard model of three seamers and a spinner in Perth, which will mean either Gary Ballance or Jonny Bairstow coming in for all-rounder Ben Stokes.
I also expect England to resist the temptation to replace Graeme Swann with Monty Panesar because the breeze at the Waca tends to favour off-spinners and Swann's slip-catching will be vitally important on that bouncy pitch.
In the bowling department, the may choose to fight fire with fire and bring in one of their tall pacemen, but if they do go for Steven Finn, Boyd Rankin or Chris Tremlett, they would have to bowl a darn sight better than they have done on the tour so far because anything off line will just be smeared to the boundary.
I suspect England will go back to Plan A and draft in Tim Bresnan to keep things tight and give a bit more strength to the lower order batting.
Whoever plays, England must produce a performance that is unrecognisable from the ones we have seen in the first two Tests or they can kiss the Ashes goodbye.