Ashes 2013-14: England's batting tactics continue to baffle

By Jonathan Agnew
BBC cricket correspondent
Last updated on .From the section Cricket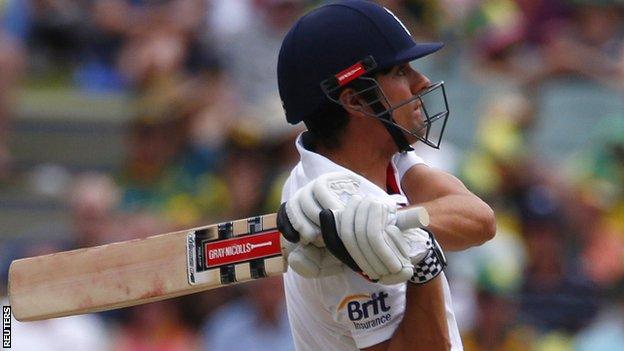 On the eve of the fourth day in Adelaide, the England players and coaching staff had a long meeting to try to resolve their batting crisis.
Batting coach Graham Gooch pulled out of an engagement with a travelling supporters' group to ensure he was there to help address some of the issues that have been undermining the defence of the Ashes urn.
If the conclusion was that England should fight fire with fire by taking on the short ball, then it backfired in spectacular fashion. Given two days to save the Test, the tourists threw away their first two wickets before they even had time to get loose.
Alastair Cook's dismissal - caught hooking to long leg in the second over of the innings - was so out of character that you almost had to double check that it really was the England captain under his helmet. And then to see Michael Carberry fall in a very similar manner really beggared belief.
Cook has a huge amount on his mind. He is under massive pressure and it is affecting his form. But why he should play a shot that he normally wouldn't dream of attempting so early in his innings is beyond me.
You can imagine the sense of deflation in the England dressing room after the two self-inflicted dismissals - their faint hopes of saving the game all but extinguished in two moments of madness.
That England did manage to dig deep to reach 247-6 and force the match into a final day was largely down to Joe Root, who was calm and unflustered as he batted for more than four hours to score 87.
Root scored fine hundreds against New Zealand at Headingley and Australia at Lord's in the summer but this was his most important Test innings to date.
It came with England in real trouble and amid a lot of hostility, and he was very unlucky to be denied a century when an inside edge off Nathan Lyon deflected off his pad and was well taken by Brad Haddin, diving forward from behind the stumps.
Root's innings should end the debate over who should replace Jonathan Trott at number three.
Root was picked for this tour as an opener and he looks to have all the qualities required to face the new ball and bat for long periods. Ian Bell is batting well at number five - notwithstanding his terrible shot today - so England should leave him where he is.
It was also encouraging to see Kevin Pietersen playing with the responsibility he should have shown in his first innings as he made 53 in a partnership of 111 with Root.
He played very straight and was very patient when facing Peter Siddle before succumbing to a slightly unfortunate dismissal as an inside edge dislodged his off bail.
England will also be pleased that Ben Stokes and Matt Prior made a few runs, even if they are only delaying the inevitable.
They are putting more miles into the legs of the Australian bowlers, which can only be a good thing with the third Test in Perth starting so soon after this one.
Sadly, there is little sign of any end to the sledging that is providing a rather unsavoury undercurrent to events on the field.
Root took lots of abuse throughout his innings, while Stuart Broad and Prior exchanged angry words with Mitchell Johnson and Haddin as they left the field.
Some people will say these verbal exchanges provide great theatre, but it is not the way Test cricket should be played and the umpires need to be much stronger to stamp it out.
England, frankly, are so far behind that they haven't got much to talk about.
Australia want to try to lure them into a verbal barrage because they are all over them at the moment. England would be far wiser to concentrate on what they are trying to do with bat and ball, and not get sucked into anything else.