Ashes 2013-14: Day four catch-up - Alastair Cook loses his head
Last updated on .From the section Cricket
The day in 50 words
Clarke declares. Two days for England to save the game.
Cool heads needed. Cook loses his - the captain out hooking in Johnson's first over.
Carberry and Bell wasteful too. But Root digs deep for 87, with help from KP.
Prior finds some form. England still alive. But only just.
Full day four report from Adelaide
Moment of the day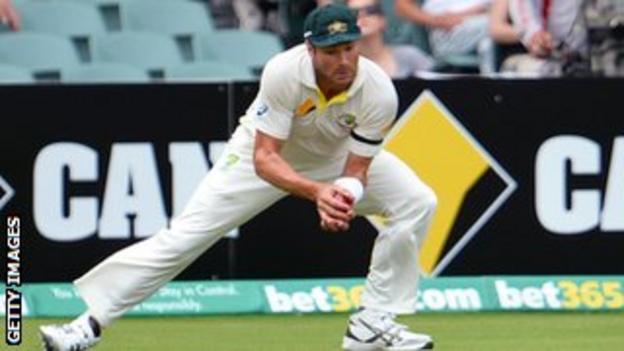 With two days to bat to save the Test, England looked to Alastair Cook to set the tone.
But in the second over of the day, their usually unflappable captain inexplicably threw his wicket away.
Tempted into a hooking at a short, straight ball from Mitchell Johnson, Cook got a top-edge that was pouched by Ryan Harris at fine leg.
After nine balls of their second innings, England were 1-1 and Australia had been gifted a flying start.
"That's totally out of character," said BBC Sport's Jonathan Agnew on Test Match Special. "Alastair Cook? Caught hooking in the second over of an innings, when England are trying to survive? That's not Alastair Cook. That's not how he plays."
Man of the day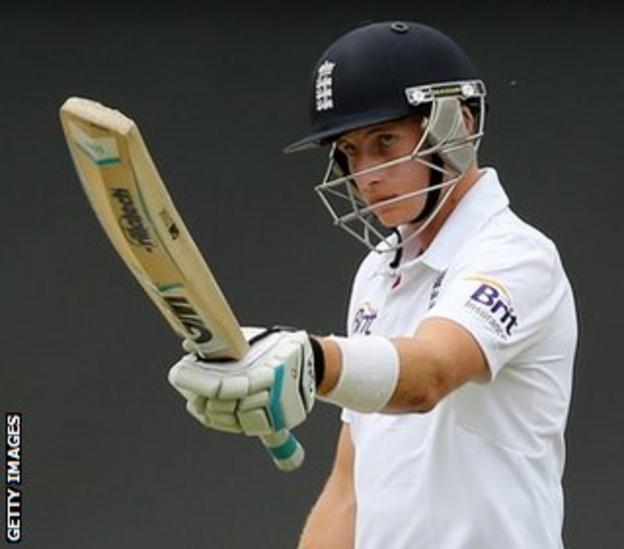 For England to achieve their first objective of taking the match into a fifth day, they needed someone to play a long innings and Joe Root was the man to oblige.
Eschewing the type of risky shot that brought about his demise to Nathan Lyon in the first innings, and smiling in the face of Johnson's constant sledging, Root batted for almost four and a half hours to score 87 runs.
The 22-year-old Yorkshireman looked devastated when an inside edge to wicketkeeper Brad Haddin denied him a century, but his mature innings has ended the debate over whether he has the aptitude to be a Test match number three.
Stats of the day
The Root/Kevin Pietersen stand was England's first century partnership in six innings since Pietersen and Bell added 106 in the second innings at Chester-le-Street in August

Peter Siddle, who had already dismissed Pietersen more times than any other Test bowler, removed him for a ninth time. In this match, he bowled Pietersen 40 balls, Pietersen scored 11 runs and got out twice

Pietersen's three sixes means there have been 20 hit in the match - an Ashes record, but well short of the overall Test record of 27

Steve Smith has now taken nine wickets in 13 Tests, and three of them have been Ian Bell
What they said
England batsman Joe Root: "We needed guys to get some scores and show a bit of fight. As a team we know we have been under-performing. That is quite evident. We need to front up to the challenge ourselves, make sure we get in a scrap and do the country proud.
"I enjoy the scrap with Mitchell Johnson - he is trying to do his job for his country and I'm trying to do my job for mine."
Australia bowler Peter Siddle: "We're just worried about getting this Test done. The boys at the lower end can bat and have troubled us in the past so we've got to come prepared, be switched on and give it to them early.
"We can never judge what the forecasts are going to be. We want to get these wickets as soon as we can and not spend too much time out in the field."
The expert view on Test Match Special
Former England captain Michael Vaughan: "It's the first time in the series that England have batted through a day, so that's a positive. Joe Root was excellent and showed composure and calmness, but Ian Bell will realise he's had a disaster after hitting a full toss from Steve Smith down mid-on's throat. We've seen lots of sledging with Broad and Johnson going at each other, but there's no question that Australia will be going 2-0 up at some point tomorrow."
Former England batsman Geoffrey Boycott: "So we've had two openers and Bell giving their wickets away, and you wonder why we're six down for 247? It's been the story of the series. Bell gave it away to a lollipop bowler. There's a good spirit about Stokes but he needs a little polish. Prior's got to get more tomorrow - he really needs a half century but it's a good start and I'm pleased for him."
Former England off-spinner Vic Marks: "Root has been the biggest plus by a long way - he bided his time, played Lyon pretty well and waited for the loose ball. Bell might score quicker at three, but my guess will be that they won't change it."
Listen to Test Match Special highlights and commentary clips
The Twitterati
Chief sports writer Tom Fordyce: Spotted walking through Adelaide: a beaming Boof Lehmann being hugged/mobbed by cheering crowds like some bald-headed, baggy-eyed messiah.
England one-day batsman Luke Wright: Really hope I don't give @MattPrior13 the kiss of death but really think he will gets himself back in form here.
And finally... you never know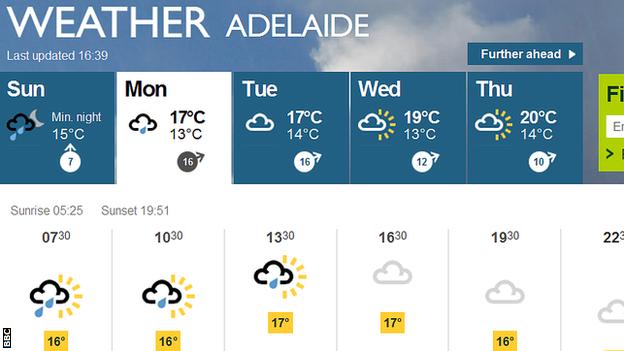 All over bar the sledging? Well, a glance at Monday's weather forecast for Adelaide offers the slightest glimmer of hope for England fans of an optimistic inclination.
Indeed Jonathan Agnew's famous 'radar' is predicting light showers in the Adelaide area all day. But will it be enough to save England?