Phil Simmons signs deal to stay on as Ireland coach until 2015
Last updated on .From the section Cricket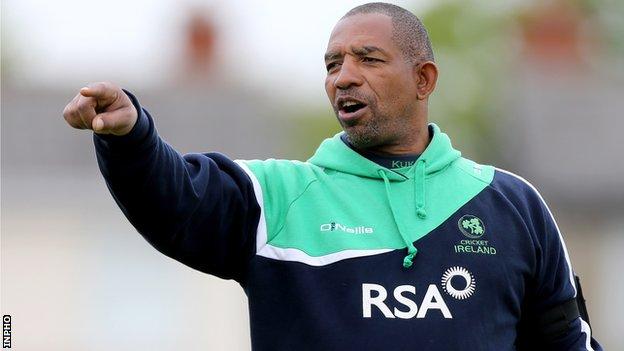 Ireland coach Phil Simmons has signed a two-year contract extension which will keep him in the job until 2015.
The 50-year-old former West Indies player, who was appointed in 2007, has guided the Irish to qualification for six successive global tournaments.
The Irish have already booked a place at the 2015 World Cup and last week won the World Twenty20 qualifiers.
Simmons, whose side beat England at the last World Cup in India, said: "I love Ireland and the people."
The Trinidadian played 26 Tests and 143 one-day internationals for the West Indies and coached Zimbabwe before taking the Ireland job.
"We are delighted that Phil will be staying with us for at least another two years," said Cricket Ireland chief executive Warren Deutrom.
"It is obvious that he has been one of the main catalysts for the continued success not just of the squad, but also of Irish cricket itself, that is now generally regarded as the country's fastest-growing sport.
"Like us, he believes that this team is capable of great things both in limited-overs cricket and, eventually, in the Test arena and his passion for the Irish cause remains undimmed.
"Irrespective that Phil is already the longest-serving coach at this level, it didn't require much persuasion for him to remain at the helm of a squad that he continues to lead with enormous skill and conspicuous success."
Simmons has guided Ireland to nine trophies since succeeding Adrian Birrell as national coach after the 2007 World Cup.
Ireland's triumphs during his tenure include the 2009 ICC Trophy, 2010 World Cricket League Division One title, three ICC World Twenty20 qualifiers tournaments and three Intercontinental Cups.
"The team has been very successful, but importantly for me, they are still hungry for success and willing to learn and improve all the time," said Simmons.
"We still have a long way to go and it's an exciting period to be involved with Irish cricket, both on and off the field.
"There's always been quality in the Irish team, but we're adding genuine depth which can be seen now in the players who aren't in the squad."
Simmons believes the Irish are "on course" to meet Cricket Ireland's aim that the country should secure Test status by 2020.
"We've dominated at Associate level and now have ambitions to take the game in Ireland to the next level."
Simmons will hope to steer the Irish to another trophy in next week's Intercontinental Cup final against Afghanistan in Dubai.