Ashes 2013-14 catch-up: Australia v England, second Test, day three
Last updated on .From the section Cricket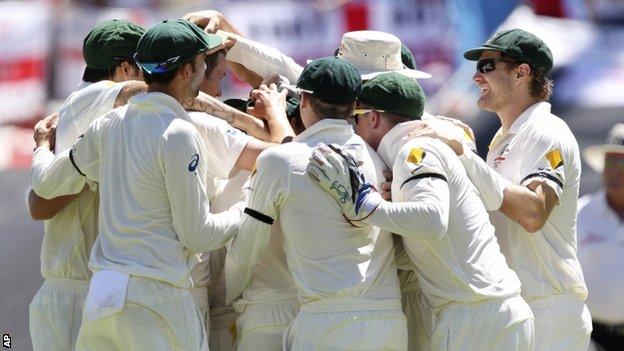 The day in 50 words
In a word - shambles. Poor shots before lunch then mayhem from Mitchell.
Five wickets to Johnson in the blink of an eye. England shot down for 172.
What, no follow-on? Clarke rubbing it in and resting his quicks.
Two early wickets then Warner makes merry. Australia lead 530.
Goodbye Ashes?
Full day three report from Adelaide
Moment of the day
Joe Root had batted with caution for 40 minutes on the third morning, but the introduction of off-spinner Nathan Lyon was like a red rag to a bull.
Immediately looking to attack, Root played a uncontrolled slow sweep and looped a simple catch to Chris Rogers on the leg side boundary.
"That's as stupid a shot as you could ever see," screamed Geoffrey Boycott on Test Match Special. "There are more brains in a chocolate mouse."
Kevin Pietersen and Michael Carberry fell to equally rash shots before lunch and England's collapse was well under way.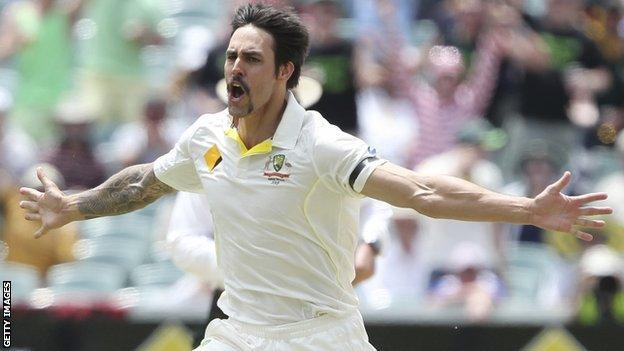 Countdown of the carnage
After the Slaughter at the Gabbatoir, this was the Adelaide Annihilation, and once again Johnson was the instigator.
His post-lunch spell, which included a triple-wicket maiden, will go down as one of the great modern displays of fast bowling. He took 5-12 in three overs, and 7-40 overall, to leave England in pieces on 135-9.
Here's how the drama unfolded:
0252 GMT: Stokes lbw b Johnson 1 (Eng 117-5) Full and straight, playing across the line. Out on review.
0256: Prior c Haddin b Johnson 0 (Eng 117-6) Roughed up by the bumpers, edged the full one.
0304: Broad b Johnson 0 (Eng 117-7) Worried about the short ball, leg stump exposed. Golden duck.
0322: Swann c Clarke b Johnson 7 (Eng 135-8) Flash at a wide one, sharp catch at second slip.
0325: Anderson b Johnson 0 (Eng 135-9) Another first-baller. Full, fast and straight. Stumps splattered.
Stats of the day
Mitchell Johnson has taken 16 wickets at 8.93 in the series

He now has 51 wickets against England at an average of 26. At the start of the series, his average against England was 34.

Johnson's haul of 7-40 moved him above Clarrie Grimmett into the top 10 Australian Test wicket-takers of all time with 221. Ahead of him are Warne (708), McGrath (563), Lillee (355), Lee (310), McDermott (291), Gillespie (259), Benaud (248), McKenzie (246) and Lindwall (228).

Peter Siddle has now dismissed Kevin Pietersen eight times, more than any bowler. Pietersen's average against Siddle is 19.8.

Test debutant Ben Stokes was out - on review - to the first lbw decision of the series.
Prior pain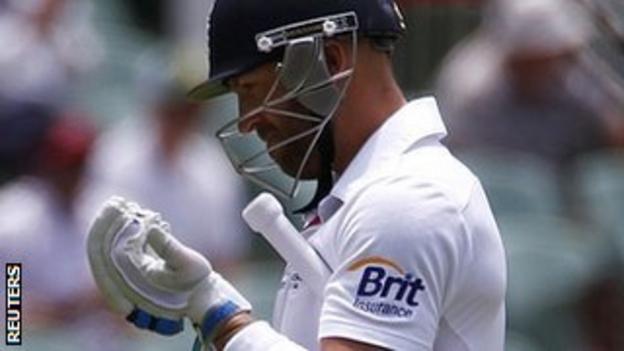 Matt Prior was named England cricketer of the Year in May following a 12-month period that featured a match-saving hundred in New Zealand and seven Test half-centuries.
I think it's fair to say he's unlikely to hold on to his award next year.
Since May, the England wicketkeeper-batsman averages 13.84 in nine Tests with a highest score of 47. His fourth-ball duck on Saturday was the fifth time he has failed to trouble the scorers in 16 innings.
What they said
England batsman Ian Bell, who scored 72 not out: "It's thoroughly disappointing. It is a very good wicket and we haven't given our bowlers any opportunity to get back in the game.
"The guys are hurting but I assure you they are doing everything to get this back. We've shown fight in the dressing-room in the past. We haven't done that so far this series but we have to put that right tomorrow and on the last day.
"Give Mitchell Johnson credit, but as an England team we haven't done anything close to what we are capable. Andy Flower and Cookie will be hurting and they will want all of us, from one to 11, to put this right. "
Mitchell Johnson: "It was emotional - coming back from injury I was told I'd never play international cricket again from a lot of people.
"To be able to back up after Brisbane was special. I've been called a one-game wonder to to be able to go out there and do it again was a great feeling."
The expert view
Former England captain Michael Vaughan: "England were favourites to win this series two weeks ago. I can't believe they've fallen over the way they've done here. Even when they lost 5-0, they didn't collapse the way they've done here. I can't see any other result than 5-0 the way they're playing. Australia have been 50 times better than England at everything."
Former England batsman Geoffrey Boycott: "England have had lots of praise for their performances when they've won Test matches and series, but they've got to accept criticism here. They've given the Ashes away. It's all over- they're not going to come back from here. Our batsmen don't look up for the fight."
BBC cricket correspondent Jonathan Agnew: "England will go 2-0 down here. How can they get back? Very difficult to see how. Out-gunned. Out-motivated."
Listen to Test Match Special highlights and commentary clips
And finally...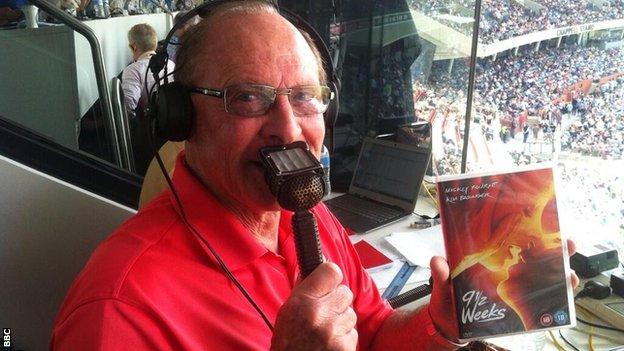 Geoffrey Boycott lightened the mood in the evening session when he revealed he'd been sent a copy of erotic thriller 9 1/2 weeks.
"It's quite a raunchy film, you know Geoffrey," warned Simon Mann.
"It it?" queried Boycs. "Oh my word..."
Catch up with a two-minute summary of Test Match Special commentary with Pint-sized Ashes.
To catch up with the action from day two, check out this gallery on the BBC Sport Facebook page.