Ashes 2013-14: Feeble England could lose 5-0 - Michael Vaughan
Last updated on .From the section Cricket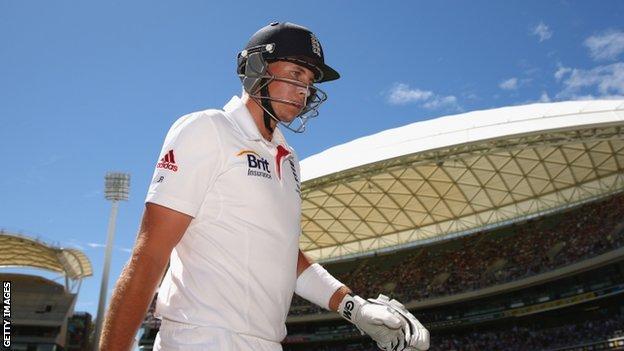 England are in grave danger of being whitewashed 5-0 in the Ashes after a "pathetic" batting display during the second Test match against Australia, says former captain Michael Vaughan.
"England look as if they are petrified of the ball and that is a real worry," said Vaughan on Test Match Special.
"I can't see any other result than 5-0 the way this England team are playing."
England, trailing 1-0 in the series after a heavy defeat in Brisbane, lost their last six wickets for 55 runs as Mitchell Johnson (7-40) ran through their middle and lower order. Australia then reached 132-3 by the close.
Vaughan was alarmed by the lack of fight from England's players in the face of a high-class spell of fast bowling.
"It's been pathetic, feeble - there is no way you can protect this batting today," he said. "England would have been blown away on day one if they'd batted like this. They are mentally shot.
"Even when England lost 5-0 in 2006-07, I don't remember them folding like this. This is as bad as I have seen from an England side."
Vaughan, who captained England to their first Ashes triumph in 18 years in 2005, believes there were signs their standards were slipping during the 3-0 victory over Australia in July and August.
"The last three Test matches of the summer were the warning signs for this England team," added Vaughan.
"They weren't playing great. Their brand of cricket was poor - attritional and very negative. If you can't go out and express your game when you are 2-0 up in an Ashes series on home soil, when you've doctored your own decks, there's a real problem.
"The majority of this England side will retire as legends and rightly so because they have won so much, but they have come up against an Aussie side that are better than we've seen in the last three series and are definitely hungrier.
"The crowd want it, the media want it. It is almost as if they have come to this series and said: 'You've won the last three... we've had enough of it.'"
Only Ian Bell, with an unbeaten 72, and Michael Carberry (60) offered any resistance as their team-mates either tossed their wickets away or were simply unable to cope with Johnson's fearsome pace.
Former England batsman Geoffrey Boycott believes Alastair Cook's side have already lost the series and called for changes before the third Test in Perth, starting on Friday, 13 December.
"England can't win the Ashes, they are not playing well enough," he said on TMS. "History says you don't come from 2-0 down. There has to be some straight-talking.
"Ian Bell must bat at three and someone needs to talk to Kevin Pietersen, he can't keep giving it away.
"Cook needs to get forward more and I don't think Ben Stokes is good enough yet. Joe Root needs to stop making mistakes, because what he did last year doesn't count.
"I'd play Monty Panesar instead of Graeme Swann. He doesn't seem to know what field to set. He's been a great performer, but we can't be sentimental."
Bell, who was batting at number five, described the team's display as "thoroughly disappointing".
But he pledged an improved performance when England bat to save the game in the second innings.
"As a group over a number of years, we've shown the amount of fight we have in that dressing room," the Warwickshire batsman said.
"We haven't got it quite right so far on this trip but there's a lot of guys in there with a lot of cricket still to go in this series that will show people we have got the fight.
"It starts tomorrow and the last day so we certainly have to fight hard. As an England team, we haven't done anything close to what we're capable of doing."
Johnson, who now has 16 wickets in the series at 8.93, said he felt emotional after dispelling his doubters with another match-turning display.
"For me to be able to back up a performance like Brisbane and do it here it is a really nice feeling for me," he said
"There's been talk in the past, I can have those performances where I can blow a team away and then the next one not turn up.
"For me I think that was why it was a bit more emotional and special, because I was able to stick to my plans and go through."
Catch up with a two-minute summary of Test Match Special commentary with Pint-sized Ashes.
To catch up with the action from day two, check out this gallery on the BBC Sport Facebook page.