Ashes 2013-14: Urn slipping away for struggling England

By Jonathan Agnew
BBC cricket correspondent
Last updated on .From the section Cricket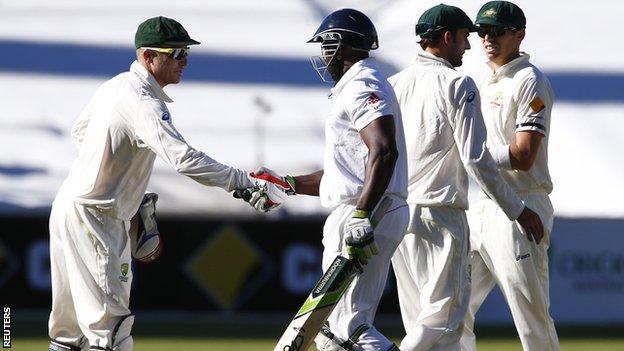 Only six days into this Ashes series, we can see that England have their work cut out to retain the urn.
The latest instalment saw Australia rack up 570-9 declared on the second day at Adelaide, with England captain Alastair Cook then blown away by Mitchell Johnson to leave England 35-1 at the close.
Quite simply, England are struggling. They are dropping catches, missing chances and are miles behind Australia in terms of performance, energy and aggression.
Losing the toss on a pitch so good for batting has been a factor, and their first-day performance was good enough to at least be level-pegging with the home side at the beginning of day two.
England had the opportunity to get in this game with some early wickets, but that was snuffed out by the brilliance of Australia, who were ruthless, adventurous and positive - all the things that England haven't been.
They were led by Michael Clarke, who played beautifully for his 148 in tandem with Brad Haddin, who scored a combative 118.
While Ben Stokes impressed as the quickest of England's bowlers, Australia really got after Graeme Swann.
One of Swann's strengths in the past has been the ability to hold one end up if he hasn't been taking wickets. Now, with the Aussies targeting him, it makes it very difficult for Cook to know where to turn.
Clarke has now scored three hundreds in his last five Ashes Tests and, in the way he is playing, reminds me of Ricky Ponting's crusade to regain the urn in 2006-07.
On that occasion, Ponting was smarting from losing the Ashes in England in 2005 and now Clarke is a similar Australia captain scorned, desperate to get the urn back and leading from the front.
In contrast, Cook is under pressure.
After two long days in the field, he was all over the place in being bowled by Johnson, shaping to play on the leg side to a ball that eventually straightened, albeit at pace, and hit the off stump.
Cook was in remarkable form when he first took the captaincy, his three hundreds were a major contributing factor to that historic win in India last year. However, the left-hander averages only 32 from his last 25 Test innings.
Now, there is no suggestion at the moment that his place at the top of the order is in question, but if the poor form continues then Cook may have to consider moving down.
There would be no shame in that - Michael Vaughan did it - because captaining a struggling team in an Ashes series is mentally exhausting.
I stress that is it not something that should be considered yet, but when you see dismissals like that you wonder if opening was the right thing for Cook to do in those circumstances.
Without him for the rest of the first innings, England have to knuckle down and show great fight, with their first target to beat the follow-on.
This is not a wicket where they should be blown away, and there is absolutely no rush. If they can get past that target of 371, then it will be a significant step to saving the match.
A draw would not only prevent England from going 2-0 down with three to play, but it would restore some confidence and put miles in the legs of the Australia bowlers with the Perth Test following next Friday.
If saving the game is beyond England, and Australia win in Adelaide, they will have taken a major stride towards regaining the Ashes.
Catch up with a two-minute summary of Test Match Special commentary with Pint-sized Ashes.
To catch up with the action from day two, check out this gallery on the BBC Sport Facebook page.