Ashes 2013-14: Honours even after England get the 'full Monty'

By Tom Fordyce
Chief sports writer
Last updated on .From the section Cricket52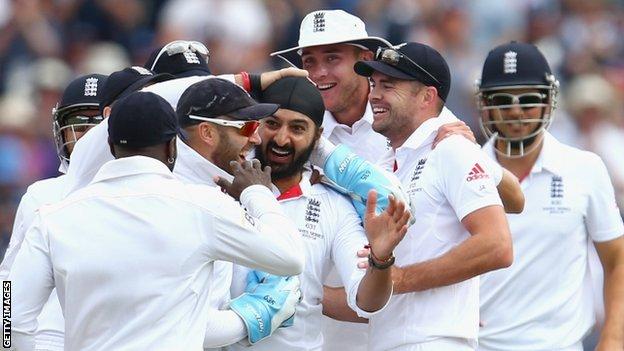 After a first Test in which each day was dominated by one side - the three critical ones all by Australia - the second has begun with a seesaw: first one team up, then the other, then a steadying until both were level and rather grateful for it.
This was a day for setting up dramas rather than deciding acts, of good starts and sloppy finishes, of tight bowling and loose hands.
Australia, having won the toss and at one point been 155-1, will know that 273-5 should possibly have been a lot more for a lot less. England, after spilling three catches (a dolly, a dive and a d'oh) will be both pleased to be halfway through the opposition and disappointed not to be further.
Having surprised pretty much everyone with a genuine gamble of a team selection, there will be satisfaction for England's beleaguered leadership that they have at least made back their initial stake.
The last time they brought in a young all-rounder for his Test debut and a left-arm spinner from the leftfield, at the Oval last August, they ended the opening day chastened and sore after conceding 307 runs at the price of just four wickets.
The spinner, Simon Kerrigan, went for 28 runs off his first two overs and ended wicketless and ragged; the all-rounder, Chris Woakes, went for a run a ball off his first 30 deliveries.
Here at Adelaide's own antipodean Oval, the pay-out was far better. Ben Stokes had not been expected to start, the muscular Gary Ballance supposedly nailed on after his half-century in the truncated tour match last weekend in Alice Springs, but with a dry pitch convincing England coach Andy Flower that a second spinner in Monty Panesar was required, an all-rounder became essential for equilibrium.
Flame-haired batting all-rounders from Durham have a decent record on this ground. Seven years ago Stokes' mentor Paul Collingwood hit a double-century here, even if that Test ended in horrible defeat; three years ago, Collingwood celebrated his side's innings victory with a near-naked slide across the water-soaked covers when the crowds had long since left.
Stokes, like Collingwood, has the ability to both tough it out in the middle and to enjoy himself off it.
Only last February he was sent home from England Lions' tour of Australia after a second alcohol-related incident in a matter of weeks. In 2011, he was arrested for obstructing a police officer, leading to a period of exclusion from the national set-up that threatened to end his international career before it had begun.
Perhaps it has made him more determined to seize this second chance. In his first spell, on a batsman's pitch, he conceded runs off just two of his first 24 deliveries.
Fours came off the other two, and two further boundaries followed off his spell's final over. But there was pace - averaging around 80mph, quicker than the once-fearsome Chris Tremlett in the first Test - and, unlike Kerrigan and Woakes, there was no visible sign of nerves on a such an exposed stage.
His second spell, late in a frustrating evening session, was similarly tight: three overs for 10 runs, no maiden Test wicket but plenty to indicate that this New Zealand-born son of a former rugby league international has the talent and temperament to one day flourish at this level.
For Panesar, who spent last summer serving a similar exclusion after issues of his own with alcohol, there was both joy and regret on his rehabilitation.
When the ball refused to turn, he was reasonably tight: just 26 runs conceded off his first 13 overs. When he found both flight and tweak, he cleaned up Steve Smith with the best ball of the day.
This being the full Monty, there was also the less palatable. With Australia reeling on 190-4, he was unable to hold onto a fierce return catch from George Bailey.
By the time the punchy number six was eventually dismissed, 43 more runs had been added to his individual tally and 67 to his team's.
Panesar then had to watch Michael Carberry muff a far more straightforward chance off his bowling, somehow fumbling Brad Haddin's gently looping top edge to leave him with 1-68 from his 24 overs - a solid return, but, like England's day overall, one that could easily have been more pleasing still.
Perhaps the men who came out of it with the most credit were the two captains.
Alastair Cook was inventive with his field placings, authoritative with his leadership and energetic even when the forecast looked ominous.
In the mid-afternoon drinks break, with Australia 135-1 and the partnership of Chris Rogers and Shane Watson seemingly untroubled, he could be seen exhorting his team to produce aggression to match their attrition.
If it was uncharacteristic, it worked. So too did several of his tactical traps, not least the decision to tempt Bailey with some short stuff and see if he bit.
Between him and a better day on Friday stands Michael Clarke, unbeaten on 48 going into that second day and looking in the sort of form that defined the first 18 months of his captaincy.
Should Clarke match his century of the second innings at the Gabba and take his side past 400, England - shaky old England, with three inexperienced batsmen in their top six and a number seven in the worst form of his life - will be fearful that both match and series are slipping away from them.
If instead England strike hard and fast, and go into bat with 350 or less to overhaul, then fresh hope will bloom that their spinners could profit further in Australia's second innings and set up a push for victory.
Most expected this drop-in pitch to produce a draw. But 12 of the last 16 Tests here have ended with a positive result. On the next few days the series could stand.
Catch up with a two-minute summary of Test Match Special commentary with Pint-sized Ashes.
For a gallery of images from the fourth day's play go to the BBC Sport Facebook page.