The Ashes 2013-14: Everything's turned upside down, down under

By Tom Fordyce
Chief sports writer
Last updated on .From the section Cricket150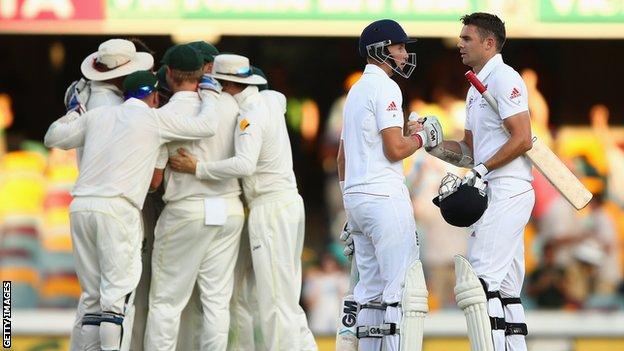 in Adelaide
Last summer it was Australia who changed their team as often as they did hotels. Last summer it was Australia who were collapsing each afternoon, being caught in bars at night-time and getting pummelled in the Aussie media each morning. Last summer it was Australia losing Test matches in four days.
Down under, seasons flipped, everything has been turned upside down.
In Adelaide on Wednesday, with less than 24 hours to go until the second Test, Michael Clarke was so confident he not only named his side (unchanged, of course) but once again named England's as well (two changes, since you ask).
Alastair Cook, by contrast, would not be drawn. But one thing both captains can agree upon is how critical the next few days are to the overall Ashes outcome.
Scenario One: Australia pick up where they left off in the 381-run win in the first Test and triumph at a gallop again. They then go to Perth, where England habitually fail to deal with the brutal bounce, with the urn theirs to claim with two Tests still to go.
Scenario Two: The drop-in pitch at the Adelaide Oval is flatter than a Dutchman's back garden. The match is drawn. Australia go to Perth, where England habitually etcetera etcetera, and find themselves two up with two to play.
It is Scenario Three that Cook and his team will be fighting for: Flat pitch neuters Gabba terror Mitchell Johnson, senior batsman at last find form, opposition batsmen crumble to late spin as they did three years ago.
Such is the pressure on England that Scenario Two-and-a-Half might even do them at the moment: Draw here, pick at the loose stitches in this still imperfect Aussie line-up, go to Perth with a settled side and a little wind back in their tattered sails.
It seems certain that Tim Bresnan will come in as third seamer for the somewhat laboured Chris Tremlett. Beyond that it's something of a guessing game.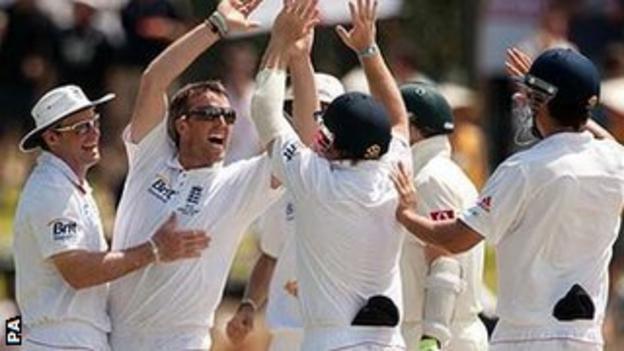 Who to fill Jonathan Trott's boots? After his assured half-century in the otherwise meaningless tour match in Alice Springs, Gary Ballance is favourite to make his Test debut. It is likely to be at six, with Joe Root moving up to three, even if Shane Warne is not alone in thinking Ian Bell's form and experience mean he should sit in that pivotal slot.
But there are alternatives. There is Monty Panesar, as successfully reintegrated now as Kevin Pietersen after taking the pee in a rather different fashion, even if that might then mean giving Ben Stokes his own Test debut at a point in his career where he is still maturing rather than ready to be uncorked, or promoting Matt Prior (Test average since May: 15) from seven to six at the least opportune of times.
Panesar is being considered - and considered seriously, according to Cook - because this Adelaide track has, since it was first used last September, produced the sort of matches that break pace bowlers' hearts and bodies.
When South Australia played Western Australia here in the Sheffield Shield, 1,237 runs were scored for the loss of 23 wickets. When Tasmania came calling more recently, the batsmen stuck on even more: 1,286.
Groundsman Damien Hough insists the drop-in pitch is made of exactly the same Athelstone clay as Adelaide wickets of old, the stuff on which 12 of the last 16 Tests at the ground have produced positive results.
England will be hoping the curator is surprised by his exhibit. After those match figures of 9-103 at the Gabba, this is a ground on which Johnson has taken 29 Test wickets at a cost of only 23 runs apiece.
Other statistics, however, offer more optimism for the beleaguered travellers.
Johnson might have been rampant in Brisbane, but seldom in his career so far has he managed to maintain the peaks. In his last Test before this series he failed to take a wicket, while his match figures of 9-82 in Perth last time out were followed by 2-134 in the following match in Melbourne.
Then there is England's strategy in facing him. Of the 229 balls mighty Mitch bowled at the Gabba, a mere 4% would have hit the stumps.
Both Cook and Bell showed in England's second innings how he could and should be played: drop the hands to the short stuff, sway or duck, only play when strictly necessary. Root, with his unbeaten 26 from 86 balls, indicated that he too was learning how to cope.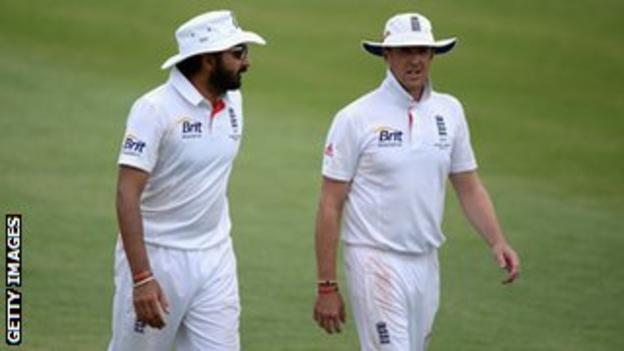 It is not the only reason to be cheerful. The issues that saw Australia lose seven of their previous nine Tests before Brisbane have not entirely disappeared. Opener Chris Rogers, number three Shane Watson and number six Steve Smith were ordinary at the Gabba. Debutant George Bailey looked exactly that. England, let us not forget, had Australia 132-6 on the first afternoon.
Then there is recent precedent. On the last two occasions England have been hammered in an Ashes series, they have bounced back with a victory in the very next Test. After losing by an innings and 80 runs in two-and-a-half days at Headingley in 2009 they took both match and series at The Oval a week later; after losing in Perth by 267 runs three years ago, they triumphed by an innings in both the two next Tests.
As far as the sledging goes - and it has gone further than the ICC match referee Jeff Crowe will allow, even if neither captain is complaining - then England's batting coach Graham Gooch had a characteristically blunt solution: just bat better.
England's players have looked relaxed since arriving in South Australia, the memories of that Brisbane battering perhaps eased by the warm welcome and quieter times they enjoyed in Alice.
Now, particularly with the inexperience of Ballance, Root and Michael Carberry in their top six, they need their senior players to deliver.
Three years ago their innings victory here was built upon a century from Cook and that brilliant 227 from Kevin Pietersen, arguably his finest ever knock for England.
Both must score heavily again, just as Graeme Swann must recover from the 2-215 mauling he received at the Gabba.
Adelaide has been productive for him in the past. On England's last Ashes visit, having recorded similarly painful figures of 2-161 in Brisbane, he took seven wickets in the match, including five in the second innings, to spin England to victory.
England's triumphs on that record-breaking tour of 2010-11 were built around relentless attrition with both bat and ball. This time, Australia have seized the advantage by displaying raw aggression with both ball and bat.
In Brisbane, Stuart Broad alone was able to cope with that calculated onslaught both on and off the pitch. If his team-mates can respond in kind here in Adelaide, England will be a different team, and this could yet be a different series.