Ashes 2013-14: Monty Panesar announcer denies racism
Last updated on .From the section Cricket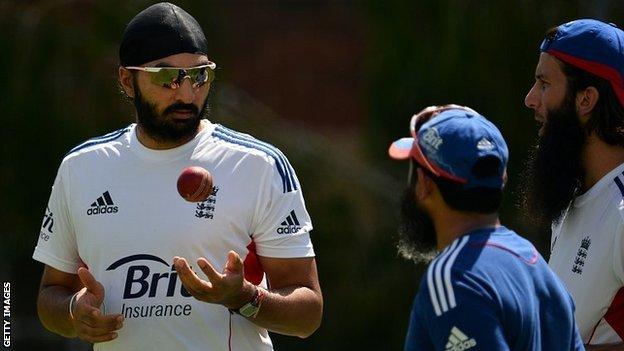 The announcer who was stood down by Cricket Australia for mocking Monty Panesar has denied making a racial slur towards the England spinner.
David Nixon rejects the allegation he adopted an Indian accent to introduce Panesar during England's tour match in Alice Springs on Saturday.
"It comes as a complete surprise to me to be at the centre of a controversy about racial slurring," he said.
"I absolutely refute any allegation that I feigned an Indian accent."
Nixon, a producer for the Australian Broadcasting Corporation (ABC), had been using a sarcastic tone throughout England's match against the CA Chairman's XI and was cautioned during Friday's play for teasing England batsman Joe Root.
Cricket Australia described his introduction of Panesar - who was born in Luton and is of Indian descent - as "inappropriate", but Nixon is adamant he intended no offence.
He insisted he said: "'There's a change of bowler at the Traeger Avenue end... its Montyyy!' That was it.
"I fail to see how anyone could interpret my introduction of Monty Panesar as racial slurring.
"I am certainly responsible for what I say, but not what people hear.
"There are few worse things than to be branded a racist. To have such an accusation levelled at me is not only offensive, but defamatory."