Ashes 2013-14: David Warner crossed the line - Steve Waugh
Last updated on .From the section Cricket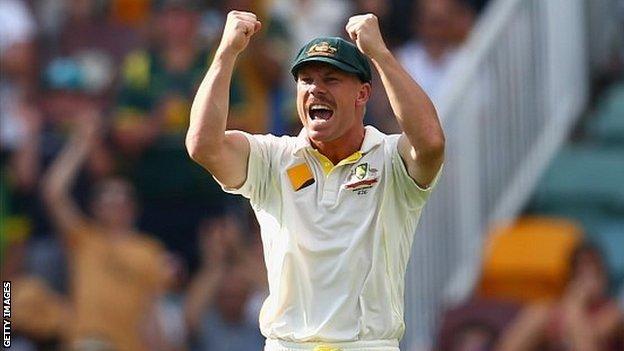 David Warner "crossed the line" with his comments about England batsman Jonathan Trott during the first Ashes Test, according to former Australia captain Steve Waugh.
"I don't believe you should comment on someone else personally on the opposition," said Waugh, who added that such comments are "out of order".
During his 19-year Test career, Waugh championed "mental disintegration" - the tactic of using verbal abuse on the field to unsettle an opponent.
However he was critical of Warner's comments, which were made in a close-of-play news conference after a struggling Trott had been dismissed for nine by Mitchell Johnson.
"He can make a generic comment, but I think when you get personal like that, you cross the line on how players treat each other, and the respect they should have," said Waugh, who played 168 Tests between 1985 and 2004.
"So I didn't agree with Dave's comments. Having said that, he probably did smell a bit of fear in the England opposition players.
"Unfortunately for Jonathan Trott, it was a personal issue, and you don't want to keep going on about that. You just want him to get better and get well.
"So I think that hopefully has been put behind in that last Test match, and won't be brought up again."
Before learning of Trott's departure, Warner admitted on Monday that he had "gone a little bit too far" with his description of the Warwickshire player.
On Friday, Warner said he wished Trott well in his battle against illness.
"It's sad to see anyone go through that tough period and obviously if he's got an illness that's there we hope he gets the right people to help him out," said Warner.
"We know the world-class kind of batter he is: he averages 50 in Test cricket and he has been a great player, a rock for England.
"I wish him all the best and I know our team wishes him all the best. I hope he gets well soon and is back playing the best cricket he can."
Australia were aggressive in both their cricket and their taunting of England players during their 381-victory at the Gabba and, although there is no suggestion Warner contributed to Trott's decision to leave, Waugh believes the hosts could be more selective with their on-field sledging.
"[Australia are] playing well, so they don't need to do so much talking out there now," Waugh said.
"I think they probably need to be a little bit more clever about the way they're going about things."