Matthew Maynard set for Glamorgan coaching return
Last updated on .From the section Cricket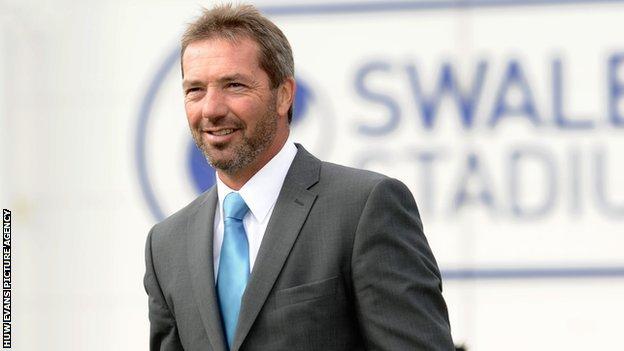 Former Glamorgan director of cricket Matthew Maynard is set to return to the county as a batting coach.
Maynard has been taking a break from cricket after his son - Surrey batsman Tom - died aged 23 in 2012 in an accident at a London train station.
Matthew Maynard told ITV news: "I've had a chat with Hugh Morris, obviously the new CEO and director of cricket, and with Toby Radford, the head coach.
"They've basically just got to work out as and when and when to fit me in."
The 47-year-old spent three seasons on the Welsh county's management before leaving in 2010.
Tom Maynard had come through the ranks at Glamorgan but joined Surrey following his father's departure.
Before taking up coaching, Matthew Maynard had been a Glamorgan player for 20 years between 1985 and 2005, during which he scored nearly 25,000 first-class runs.
He captained Glamorgan to the 1997 County Championship title - Glamorgan's first for 28 years - and also took them to the 2000 Benson & Hedges Cup final at Lord's in 2000.
Maynard Sr played four Test matches for England and went on to be an England assistant coach from 2004 to 2007.
After leaving Glamorgan, Matthew Maynard had a successful spell coaching in South Africa.
However now, and he is set to return to the Welsh county.