Ashes 2013-14: Mitchell Johnson rules out a truce with England
Last updated on .From the section Cricket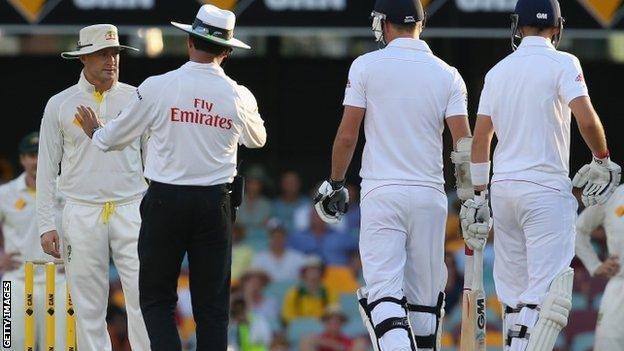 Australia bowler Mitchell Johnson has dismissed the suggestion of a truce with England following a bad-tempered Ashes opener.
And Australia's Michael Clarke was fined for an obscenity while warning James Anderson to expect a broken arm.
"Their coach wants a truce from what I've heard. That's not going to change from our end," said Johnson.
"I think it's worked for us. I definitely think they're rattled by it. They don't like it at all."
ICC match referee Jeff Crowe will urge both teams to calm down before the second Test in Adelaide on 5 December.
Australia go into that match with a 1-0 lead in the series following their 381-run win in the first Test in Brisbane.
Johnson twice dismissed Trott cheaply in taking nine wickets in the Test and it was the batsman's inability to deal with the paceman's bounce that saw Warner talk of his "weak" batting.
Those comments were criticised for being "disrespectful" by England captain Alastair Cook.
However, Johnson, 32, does not think the level of sledging - a verbal exchange designed to put off an opponent - went too far in the first Test and felt Clarke was right to "stand up" to Anderson.
"I thought it was really good what Michael did, as a captain," he added.
"That's what you want your captain to do - stand up for the players - and that's what he did."
England bowler Stuart Broad, who laughed off the abuse he received from Australia's fans in Brisbane, did not think the sledging overstepped the mark.
"Speaking from a personal point of view, I don't think it was over the top," Broad said.
"It's Ashes cricket, England versus Australia, and there is a lot of passion out there. You come to expect a bit of sledging in Ashes cricket.
"It's up to the players to take responsibility and make sure it doesn't go too far."
However, England manager Andy Flower wants a balance to be struck between "intense" cricket and acceptable behaviour.
"I think there are standards of behaviour that individuals and teams must set themselves," said Flower.